Brother UK – Tifosi p/b OnForm team manager, Simon Howes, acknowledged that his riders made a 'terrific' start to the women's HSBC UK | National Road Series, but says they won't be resting on their laurels as they look to build on that early promise.
Anna Henderson took victory at the East Cleveland Klondike, while her team-mates filled three of the remaining four top-five places (Leah Dixon third; Rebecca Durrell fourth; Jessica Finney fifth) while Illi Gardner, Emily Wadsworth and Gabriella Shaw also secured top-15 finishes.
The performance puts Brother UK – Tifosi p/b OnForm in a commanding position in the team standings looking ahead to round two of the series – the Chestnut Homes Lincoln Grand Prix on May 12.
Epic to win the first round of the national Series!! Even better to be on the podium with my @cycleteamonform teammate@leah_dixie2691 the new bunch sprint legendhttps://t.co/aEZrJs3MqM

— anna (@annahendersonxo) April 14, 2019
Howes said:
"We are delighted – of course it's a terrific start, but it's only one race. There's a long season ahead of us, and the true test will be how we perform throughout the season in the UK and in Europe."
Henderson outsprinted Joscelin Lowden (Brother UK – Fusion RT) to claim the win at the East Cleveland Klondike, and Howes explained that, while he believes that the national circuit champion could compete with anyone in the country in a sprint finish, the race presented opportunities for his entire team to show their abilities.
He continued:
"We don't set expectations, other than for riders to perform their best on the day, however we said in our team meeting the day before the race that any of the eight riders we had on the start line had the ability and the form to win, so every rider was given the opportunity to attack.
"All the riders agreed that, if the race came down to a sprint, they would mass on the front for the last kilometre. Knowing the riders we had in the group and the tough nature of the last 600m, we expected very few riders to be able to come past.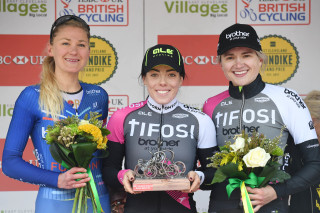 "We fully expected Jos to be there in the closing stages, and we knew that if she ever escaped we had to be there with her. Anna's sprint is as fast as any rider in the country, so we were happy with that head-to-head combination."
After the race, Henderson was among the riders to praise the event, which was hosting its first elite women's race after being a fixture on the men's calendar since 2017.
Howes was equally as complimentary, and added:
"The organisation of the race was immense, and the course provided a true test of fitness. It was a great event to be part of, and we are already looking forward to returning in 2020."