The National Road Series returns this Sunday with the 18th edition of the Ryedale Grasscrete Grand Prix.
With the National Circuit Series reaching its end at the end of July in Newark, the domestic peloton's gaze is now firmly back on road racing.
Ryedale forms round four of the women's National Road Series, and round three of the men's, with the Beaumont Trophy (17 September) and the East Cleveland Classic (1 October) still to come. The series titles are still all to play for and the current leaders of the individual classifications, Monica Greenwood (DAS-Handsling) and Zeb Kyffin (Saint Piran), will be among a stellar cast of starters keen to stake a claim for series honours.
History
The race was first run back in 2005 when it hosted the National Road Championships, with Russell Downing and Nicole Cooke the then winners. Run every year since then, bar 2020, the event boasts an illustrious set of past winners that include Rob Hayles, Sharon Laws, Ian Stannard, Nicky Juniper, Ollie Wood, Anna Henderson, James Shaw, and Claire Steels. Last year's editions were won by Abi Smith (EF Education-TIBCO-SVB) and Alex Richardson (Saint Piran).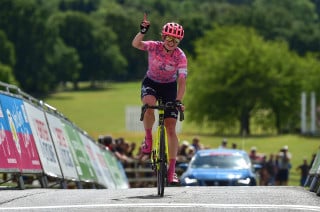 Route
The route for 2023 is unchanged from last year's edition. Starting and finishing in the historic surroundings of Ampleforth Abbey, the picturesque route incorporates takes in two overlapping circuits of the rolling Hambleton countryside, in the shadow of the hills that make up the western edge of the North York Moors National Park.
The race opens with laps of a large circuit before moving onto a shorter finishing circuit. Both loops feature some tough climbs and narrow, twisty country lanes, making for selective racing.
The women's race is 101.4 km long and takes in two laps of the long circuit followed by three laps of the short circuit. The men's race is 161.9 km in length and includes three laps of the long circuit and five of the short circuit, with both races finishing on a stiff rise within sight of the Abbey.
Riders to watch
Last year's victor Abi Smith (the 2021 National Road Series winner) headlines the women's race. Smith will be looking to make it win number two as she continues her comeback from injury earlier this year.
Series leader Monica Greenwood spearheads a strong DAS-Handsling team, supported by 2022 National Road Series winner Sammie Stuart, new signing Frankie Hall and the in-form Lucy Lee.
Greenwood will be looking over her shoulder at Rapha Lincoln Grand Prix winner Robyn Clay (Pro-Noctis – Heidi Kjeldsen – 200 Degrees Coffee), who is just four points behind Greenwood in the standings. ANEXO/CAMS Women's CiCLE Classic winner Jessica Finney (AWOL O'Shea), third in the series standings, is another rider Greenwood will need to be wary of.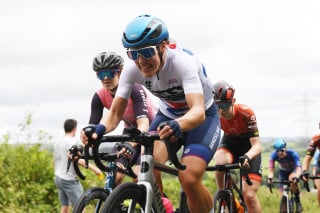 Others to watch in the women's race include Lifeplus-Wahoo's April Tacey, fresh from the Tour de France Femmes, a strong Hutchinson-Brother UK team, which counts Lancaster Grand Prix winner Ruth Shier and Peaks 2-Day victor Tammy Miller among its squad, and climbers Mary Wilkinson (Team Boompods) and Connie Hayes (AWOL O'Shea).
In the men's series, Saint Piran has been all-conquering so far. The team took all three podium spots in the first two rounds and, with another strong line-up at Ryedale, a hattrick of 1-2-3 is not beyond the realms of possibility. Among the team's many options are last year's winner Alex Richardson, Jack Rootkin-Gray, who was fourth in the 2023 UCI Cycling World Championship under-23 road race last weekend, and current series leader Zeb Kyffin.
It's a strong men's field, but there are a few to watch. Cycling Sheffield's James McKay has been the leading domestic rider this year, and should thrive on this course, while TRINITY Racing boasts 2022 Tour Alsace winner Finlay Pickering among its starters. 2022 National Road Series winner Rob Scott (Cross Team Legendre) lines up alongside teammate Josh Whitehead, who won the 2021 Lancaster Grand Prix.
Talented first year under-23s include Mattie Dodd (Tirol KTM Cycling Team) and Zachary Walker (Tudor Pro Cycling Team U23), and will be looking to make a mark on home soil, while former Rás stage winner Matthew Teggart (ROKiT-SRCT) has a point to prove as he returns from injury.
Timings and coverage
The women's race begins at 9:15 and finishes at approximately 12:25, while the men's start is at 14:00 with an estimated finish of 18:25. You can follow the action on the British Cycling social media channels.
For more a more in-depth preview of the race, as well as the latest startlists, head to The British Continental.