James Shaw has stressed the importance of morale as his SwiftCarbon Pro Cycling team look to kick-on from his Tour of the Reservoir win as the HSBC UK | National Road Series resumes this weekend.
Shaw took an impressive stage 2 win to claim overall victory at the Tour of the Reservoir last month, which elevated him to second in the overall series standings.
However, with OVO Energy Tour of Britain qualification at the forefront of his mind, team consistency is his top priority as the men's HSBC UK | National Road Series takes in the Beaumont Trophy this weekend.
He said:
"We've been in the mix over the series, and we're aware of what we need to do to get our place at the Tour of Britain. We're looking at consistency – we're trying to pick up points at every race, rather than be up and down."
While Shaw has taken the majority of the headlines thanks to his impressive form, he believes that his team's biggest strength lies with their togetherness and lack of egos – something which can help to propel them towards further strong results as the second half of the series progresses.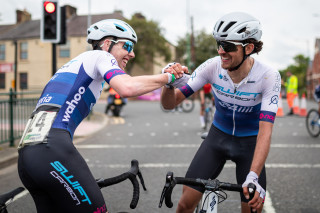 He continued:
"We've definitely got morale on our side. That's one of the things we have in our favour – I think other teams might have more budget, and better this and better that, but I think we're on a par if not better when it comes to our friendships as a team.
"We have a willingness to work for each other. I've been in teams in the past and seen teams who might have two leaders, but they refuse to work for each other – it then becomes a little bit sore and stale and you all end up losing.
"But I don't really feel like we have that in our team – we have our fair share of winners and our fair share of workers, and I think that's over-looked a lot of the time; people forget how important it actually is."
Shaw is currently behind only Madison Genesis rider Matt Holmes in the individual standings, while SwiftCarbon Pro Cycling sit third in the team standings.