Round 3 of the men's HSBC UK | National Road Series takes place on Sunday - the first ever Lancaster Grand Prix.
The event is one of the new rounds of the series, and promises "climb after climb, twisting descents and a superb finish", according to former British Cycling and UCI President Brian Cookson, Chair of the event's Organising Committee.
The race, which will take place on the same day that round 3 of the women's series is contested at the CiCle Classic, will start and finish at the city's iconic Ashton Memorial, and see riders complete seven laps of a hilly course, covering a total of 100 miles.
Cookson says:
"Lancaster provides an ideal venue for a major road race, with an iconic start and finish point at the landmark Ashton Memorial in Williamson Park, and great roads nearby in the scenic Forest of Bowland Area of Outstanding Natural Beauty.
"The riders will face a very hilly 160km (100 miles) route with more than 2,600m (8,500 feet) of climbing. From the start point they will travel to the well-known circuit based on the villages of Dolphinholme and Abbeystead, and will cover seven laps of this before returning - with a final tough climb of Conder Bottoms just 3km from the finish - to complete the race in Williamson Park at the foot of the Ashton Memorial."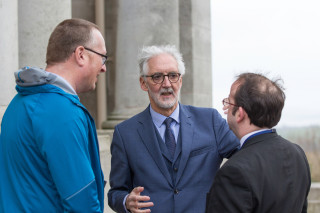 Canyon DHB p/b Bloor Homes will be looking to extend their 100% start to the series in Lancaster, with Rory Townsend and Tom Stewart respectively having won the first two rounds.
Of round 3, Cookson continues:
"The race will fit perfectly into the series, as it is designed as the British equivalent of an Ardennes Classic, with climb after climb, twisting descents and a superb finish next to an iconic landmark.
"This race provides an ideal opportunity for a rider who can climb well, but also one who has the endurance and stamina of a rouleur. The tough course will certainly split the field, and the steep final climb means that a sprint finish is unlikely. This will be a race for the hard men of the British peloton.
"As a new addition to the series, it's going to be fantastic, and we plan to build the event into something even bigger in the future."