British Cycling is delighted to announce University of East Anglia (UEA) as the official sponsor of the 2019 HSBC UK | National Road Championships.
This year's championships – held between June 27 and 30 - will see national time trial and road race champions crowned as part of the Great British Cycling Festival, which will also ensure that all levels of the sport are celebrated.
Amateur cyclists will have the chance to ride the same course as the professionals on Sunday June 30, with British Cycling working alongside Golazo, Active Norfolk, Norwich City Council, Norfolk County Council and the UEA to ensure that hosting the championships benefits the entire community.
This aim aligns with the UEA's existing commitment to sport: a fifth of the university's students and staff regularly cycle to campus, and as the university's Director of Sport and Commercial Services, Phil Steele, explains, sport is integral to the institution.
"UEA is delighted to be sponsoring British Cycling's 2019 HSBC UK | National Road Championships which will see the very best athletes in British cycling competing in Norwich.
"UEA is committed to supporting sport, ensuring young people see sport as a way into higher education, and ensuring our research contributes to the wealth of intelligence about the benefits of sport and healthy exercise," he continued.
"We have amazing facilities at our Sportspark, an active sport development team, an Elite athlete programme and were awarded the British Universities and Colleges Sport Participation Programme of the Year in 2017."
While being the pinnacle of British domestic road cycling, British Cycling is – as with all of its major events – keen to ensure that the championships deliver a legacy which contributes to the ambition of making our communities fitter, greener and healthier through increased levels of cycling.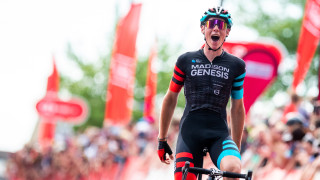 British Cycling's Commercial Director, Jonathan Rigby, said:
"We're delighted to be linking up with the UEA, along with other partner organisations, to deliver what is sure to be both a fantastic showcase for elite sport and hugely beneficial event for Norfolk.
"British Cycling has a proven track record in ensuring that elite success inspires mass participation, and we're excited about working with the UEA to make sure that the university's staff, students and wider community are fully involved with – and benefit from – the 2019 HSBC UK | National Road Championships."
Entries are now open for the National Championships Century – the sportive which will take place on the same day as the elite road races. Entry is open to all, with full details and the entry form here. Further details on the time trials and road races, including full routes, will be released in due course.