British Cycling has today announced the various courses for the 2017 HSBC UK | National Road Championships, which will take place on the Isle of Man on 22 and 25 June.
The event, the biggest date in the British road race calendar, will see champions crowned in the road and time trial disciplines. Last year saw Adam Blythe, Hannah Barnes, Alex Dowsett and Hayley Simmonds crowned elite champions in Stockton-on-Tees.
The 2017 championships begin on Thursday 22 June with the time trials, which will see riders compete on a 13.8-mile course that starts and finishes at Tynwald Hill, St John's.
The courses
Men's road race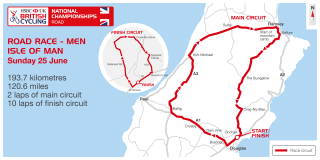 Women's road race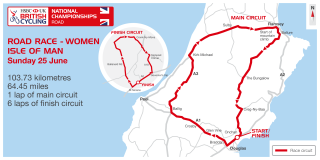 Time trials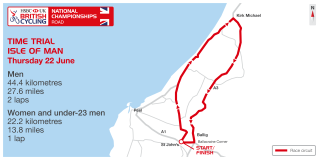 Men will complete two laps and women and under-23 men one lap of a clockwise course that heads north along the coast to Kirk Michael before heading south back down the Isle of Man TT course to Ballacraine Corner, where riders will turn right to head towards the race finish.
The road races will take place on Sunday 25 June, starting and finishing at the TT Grandstand in Douglas. Riders will begin with two laps (men) and one lap (women) of the 37.7-mile iconic Isle of Man TT Snaefell Mountain Course, which includes the famous Snaefell mountain road climb.
Riders will then return to Douglas for 10 laps (men) and six laps (women) of a 4.5-mile clockwise finishing circuit, which heads north up Ballanard Road before turning right to follow Scollag Road and heading south to take a right turn at Signpost Corner.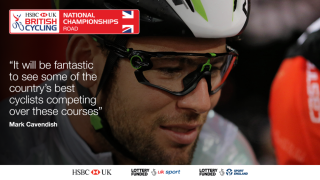 The race then turns right before taking in Governor's Dip ahead of the finishing straight where the champions will be crowned in front of the Grandstand.
Manx rider Mark Cavendish, who counts a national road race title amongst his illustrious list of achievements, said: "I know there's a huge amount of enthusiasm for hosting the national championships on the Isle of Man. The championships coming to the Isle of Man will be great for all involved, and it will be fantastic to see some of the country's best cyclists competing over these courses next month."
Jonny Clay, British Cycling's director of cycling, added: "The Isle of Man is steeped in cycling history, and we are delighted to be able to announce a route for the 2017 HSBC UK | National Road Championships which incorporates some of the island's most famous sites.
"This will not only provide a fitting nod towards the island's sporting heritage, but will also give spectators the best possible opportunity to view what is sure to be a fantastic two days of racing.
"The course announcement is another hugely exciting milestone for a championships which will help to underpin elite road racing on the island and raise its profile nationwide."
Richard Fletcher from race organisers Manx International Cycling added: "The road race culminates in multiple laps of an exciting finishing circuit which passes the TT Grandstand and race village. This will provide superb spectator viewing at the business end of the race."
2017 HSBC UK | National Road Championships schedule
Thursday 22 June
Time trials for elite men, elite women and under-23 men
Sunday 25 June
Road races for elite men and elite women, incorporating championships for under-23 men and women respectively
A mass participation sportive event will take place on Saturday 24 June and will feature long and short course options on the same roads used for the road race championships, including a closed-road stretch over the mountain section of the Isle of Man TT course.