Moelfre Hall near Oswestry is the venue this weekend for mountain bike fans to get up close and personal to watch the UK's top flight riders in the British Cycling MTB Four Cross National Championships.
The event will take place on a newly-revised track, re-designed by defending champion Scott Beaumont and built by legendary track architect Mark Sleigh. The course includes multiple lines and features and is described as very technical.
Last year's champion Beaumont will be looking to defend his title by winning his fifth consecutive championship and has one win in the British Cycling series so far this season. Connor Hudson and Duncan Ferris are the other series stage winners in 2016 and a threat will also come from legendary riders Will Longden and Martin Ogden.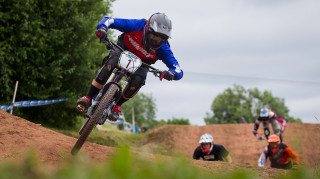 In the women's event, all eyes will be on Natasha Bradley. The teenager from Devon is the reigning champion and has been in sensational form in the 2016 British Cycling MTB Four Cross Series – winning all three rounds in this year's competition.
Practice takes place on Friday evening and Saturday afternoon, with seeding runs, motos, semi-finals and finals on Saturday evening.
The venue also plays host to the next round of the British Cycling MTB Downhill Series with finals on Sunday. Innes Graham leads the men's competition, with Katy Curd top of the standings in the women's event.