Hudson, Wherry and Mills secure series wins as Beaumont dominates again in the final round of the HSBC UK | National Four Cross Series at Redhill Extreme.
In tough conditions in Gloucester with every rider struggling to come to terms with the mud and water Scott Beaumont (USN) showed his class again winning all of his motos, semi finals and eventually the A Final of the Pro Elite race.
It was touch and go whether round 7 would actually take place after heavy rainfall and with horrendous weather forecast for Sunday but after much consultation the decision was made to race and with the thunder storms not materialising the newly redesigned Redhill Extreme course proved a tough challenge for a lot of the racers.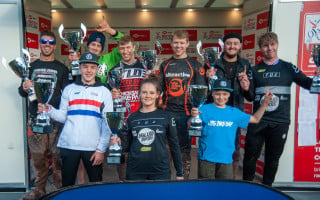 Beaumont was quickest out of the gate in all of his races, hitting the first corner ahead every time, something that proved a perfect strategy in the Elite A Final when a tangle in the second corner took out the three chasing riders and resulted in a broken rear mech' on James Wilson's bike. With Beaumont well ahead it was now a chase for second place as Wilson scooted his broken bike down the rest of the circuit holding off the chasing Daniel Wagstaff to claim second place on the line.
Davi Roberts (Action Sports Timing) crossed the line in fourth spot, which was good enough to see him move up into second spot in the final standings behind Connor Hudson, who by his own standards had a bad day on the slopes at Redhill admitting that the wet conditions were his nemesis. Beaumont took third place in the standings having competed in only four of the seven rounds due to injury.
With the field for round 7 reduced due to weather forecast fears, only three junior women and junior men made the journey to Gloucestershire, so the decision was made to include them in the senior men's field, and it was Megan Wherry who impressed once again, coming sixth overall and securing the series win in the process.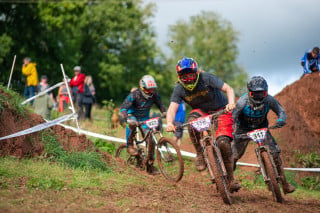 Isabella Leyshon, (Chicksands Bike Park) pushed Wherry all the way to take second place in her first ever 4X race having moved over from MTB, while Courtney Abbiss took third in the women's category.
The male junior riders proved too strong for the senior field, with William Mills (Dialled Bikes) showing his class, to take the overall win and secure top spot after dominating the series. Will Harris took second spot on the day in only his third race of the series putting him in third spot in the final standings behind Ruben Masi (Falmouth Cycles) who found the day's muddy, slippery surface tough not making it through to the finals.
Gallery