Sibling duo Harry and Charlie Tanfield are set to feature in a star-studded line-up at this weekend's HSBC UK | National Circuit Championships in Stockton.
The pair – from Great Ayton, North Yorkshire – will be joined on the start line by Olympic champion Ed Clancy, national road champion Connor Swift and reigning national circuit champion Tom Pidcock. A full riders list for both the men's and women's races can be found here.
Harry Tanfield finished second behind Pidcock at last year's HSBC UK | National Circuit Championships in Sheffield, and third in the Stockton round of the HSBC UK | National Circuit Series. After a strong start to 2018, which has included victory in the first stage of the Tour de Yorkshire, he's now raring to go again in Stockton.
"It's brilliant to see the HSBC UK | National Circuit Championships come to Stockton this weekend. It's a circuit that I know well and one which is always a highlight of the calendar, so I'm looking forward to getting back out there again on Friday.
"It's not often that you get the opportunity to race so close to home, so I'm looking forward to hopefully seeing some familiar faces in the crowd. The crowds in Stockton are always fantastic and I'm sure that they'll be out in force in the sunshine this weekend to cheer on the riders and do the town proud.
"I've got fond memories of last year's championships in Sheffield, and with such a strong field of riders I'm sure that this year's will be another to remember. With red, white and blue striped jerseys up for grabs I'm sure the competition will be as fierce as ever."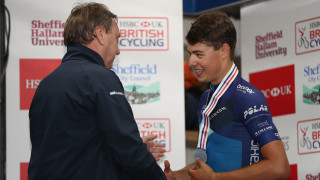 Fans will be able to watch all of this year's championships live on the British Cycling website, while the women's race will also be broadcast live on Eurosport from 18:00 – 19:00.
The event kicks off the hugely popular Stockton Cycling Festival, which is now in its eighth year. Following Friday's circuit races, Saturday will see riders take on the Stockton Sportive event, before elite riders again take to the town's streets on Sunday to compete in the HSBC UK | National Women's Road Series and HSBC UK | Grand Prix Series.
Families will also be invited to ride on closed town centre roads themselves during 'Ride Stockton' from 12:30 – 14:30, with plenty of other great activities to get involved in throughout the day.
Full details of the festival can be found here.
HSBC UK | National Circuit Championships schedule:
Women's race: 18:00
Women's presentation: 19:20
Men's race: 19:45
Men's presentation: 20:50