British Cycling is pleased to announce that next Friday's HSBC UK | National Circuit Championships will be broadcast live on the British Cycling website.
Live coverage of both races will be streamed through the British Cycling website, enabling fans across the country to watch this year's champions be crowned.
Both Jessica Roberts (Team Breeze) and Connor Swift (Madison Genesis), who won the road races at last weekend's HSBC UK | National Road Championships in Northumberland, will be racing at the event.
The victory was Roberts' maiden elite title, with the 19-year-old producing a sensational ride to hold off Olympic champion Dani Rowe.
Speaking ahead of next weekend's championships, she said:
"Pulling on the national champion's jersey last weekend was such an incredibly overwhelming feeling, especially given the amazing standard of riders competing.
"Circuit racing presents a different set of challenges to road racing, but I'm really excited to get out there and give it my all again in Stockton.
"To have the race broadcast live is fantastic for the profile of the sport, and just shows how far women's cycling has come in recent years. I hope that watching the racing will help inspire even more women and girls across the country to get out on their bikes."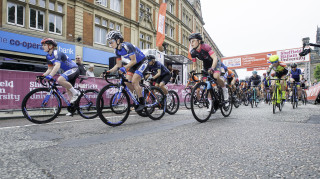 This year's HSBC UK | National Circuit Championships will kick off the hugely popular Stockton Cycling Festival, which is now in its eighth year. Following Friday's circuit races, Saturday will see riders take on the non-competitive Stockton Sportive event. Elite riders again take to the town's streets on Sunday to compete in the HSBC UK | National Women's Road Series and HSBC UK | Grand Prix Series, while families will be invited to ride for free on closed town centre roads themselves during 'Ride Stockton' from 12:30 – 14:30.
Full details of the festival, including how to enter the sportive, are available here.
A full rider list will be announced in due course.