The full pathway for the process from registration to qualification:
STAGE 1: Pre-training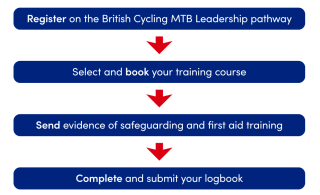 This covers the steps to take prior to attending your training course.
Register on the British Cycling MTB Leadership pathway
Prior to booking onto a training course, you need to register with British Cycling's MTB Leadership Programme. This will include British Cycling Ride Membership where not already held. We will send you the Level 2 course resources and an email about how to access your safeguarding training course.
Select and book your training course
Book your Level 2 Training course directly with one of our approved Providers across the UK.
Send evidence of safeguarding and first aid training

When you have completed the safeguarding course provided as part of the registration, send a copy of your certificate in. Alternatively, if you regularly work with young people, a letter from the organisation you work for verifying your competency in a safeguarding role is also accepted.
Likewise send us a copy of your current 2 day outdoors first aid certificate. This can be submitted after your training but must be provided before we can issue your assessment certificate. Send these to mtbleadership@britishcycling.org.uk. Remember to include your membership number.
Complete and submit your logbook
Complete your riding logbook and send a copy to your provider prior to attending your Level 2 Training course.
---
STAGE 2: Training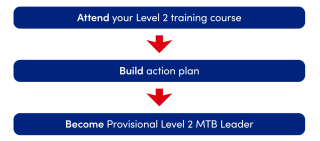 Your training course is designed to add to your existing skills, knowledge and experience.
Attend your Level 2 training course
Attend your 2 day training course. Understand what will be required of you as a mountain bike leader and at your Level 2 Assessment.
Build action plan
At your training course you and your tutor will develop an action plan to help define the areas you should focus on during your learning consolidation.
Become Provisonal Level 2 MTB Leader

Your dashboard and any replacement licences will be updated with your new status as a Provisional Level 2 MTB Leader. This means providing you have supplied your evidence of first aid and safeguarding training and retain current Ride membership, you are insured to assist other British Cycling fully qualified MTB Leaders.
---
STAGE 3: Learning Consolidation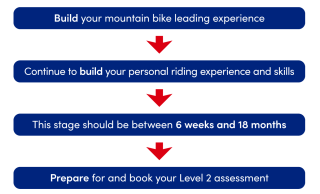 This stage is where you put all the understanding and skills learned and developed during your training into practice.
Build your mountain bike leading experience

Continue to build your riding experience and seek leading experiences assisting other leaders.
We acknowledge there can be very defined circumstances where you are already employed to lead mountain bike rides under your employers' insurance. Where this is the case, add these rides to your logbook.
Continue to build your personal riding experience and skills

Where your training course identifies that you require further riding experience, you can continue to build your own skills and experience across a range of suitable terrain.
This stage should be between 6 weeks and 18 months
The consolidation stage should provide enough opportunity to practice and refine your leadership skills whilst not being long enough for your knowledge of the key skills and requirements of the Level 2 Award to fade.
Where this period goes beyond 18 months, we may request that you attend further training prior to an assessment.
Prepare for and book your Level 2 assessment
Prepare for your Level 2 MTB Leader Assessment: read the relevant sections of the Level 2 Handbook and book onto a Level 2 Assessment with your preferred provider. You can choose any Provider, not just the one where you attended your training.
---
STAGE 4: Assessment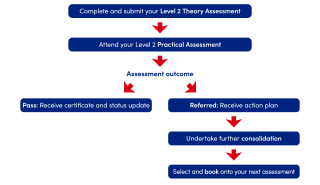 The assessment verifies your competencies against the requirements of the qualification and enables you to become a qualified Level 2 MTB Leader.
Complete and submit your Theory Assessment

An electronic question paper confirming your knowledge and understanding of key mountain bike leadership requirements. This uses an editable pdf form that can be completed on PC, tablet or phone.
Attend your Level 2 Practical Assessment

Demonstrate your experience, aptitude and competencies as a mountain bike leader during a 1 day practical assessment. The assessment procedure is informal and is designed to help you continue to develop as a mountain bike leader.
Assessment outcome
Your tutor will discuss the outcomes and elements achieved during your assessment. Where all elements are complete you will pass; where some are not attained, you will be referred.
Pass:

Receive certification and status update
Where you pass, you can go on to lead groups as a qualified Level 2 mountain bike leader, provided all your paperwork has been submitted.
Referred:

Receive action plan
If you are referred, your tutor will develop a tailored action plan with you towards achieving the qualification. You may need to complete all elements or only the outstanding ones (depending on the assessment outcome).
Undertake further consolidation

The specific actions and a suggested timescale will be determined in your action plan, but will be a maximum of 12 months.
Select and book onto your next assessment

Select your preferred course date from a wide range of providers across the UK. You can book any provider, not just the one where you attended your previous assessment.
---
STAGE 5: Post Assessment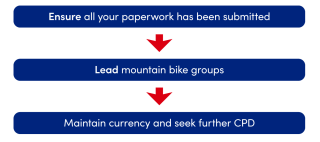 As a Level 2 Mountain Bike Leader you have an ongoing responsibility to remain current.
Ensure all your paperwork has been submitted

Once you have successfully completed all of the assessment requirements and submitted all relevant paperwork to British Cycling, we will update your dashboard, any new licences and send you a certificate.
Lead mountain bike groups

Now you hold the award, make the most of it by leading plenty of mountain bike rides.
Maintain currency and seek further CPD
Keep your award current by recording all your personal and led rides in your logbook. Undertake regular CPD through reflection, other courses and peer observation. Go on to other courses, such as the Night Leader Award, Level 3 MTB Leadership Award or Level 2 MTB Coach Award as needed.
Keep British Cycling up to date by sending in up to date safeguarding and first aid certificates and where desired, retaining your British Cycling membership.
---
Contact British Cycling regarding the British Mountain Bike Leadership Awards
If you feel you might need extra support to undertake a training course or assessment because of a physical or learning disability, please contact the Mountain Bike Leadership Team ahead of booking. We can then discuss any reasonable adjustments that would support you to become a Mountain Bike Leader.