Location: Top Barn Activity Centre, Worcester
Event: 29 April 2012
Report: Mark Leyland
Photography: Mark Evans
---
In what could only be described as extreme conditions, a modest, yet highly competitive gaggle of riders descended on Top Barn Activity Centre in Worcester, for round two of the Back On Track Bash Series.
After organisers set up the course the previous day, they returned on race day to find several sections destroyed by high winds overnight but with marking tape and mallets in hand, the course was made right again just in time to welcome riders for race one.
Up first were the Juvenile, Youth, Junior, Women and Fun categories, all facing laps of the popular and challenging 5km course. The technical sections of singletrack woods became increasingly treacherous and several riders took a tumble through the catch netting on one descent. This coupled with high winds on the most exposed sections, made staying upright the order of the day for anyone wishing to place highly. Following this, the Under 10s and Under 12s, took on a shorter lakeside course, including the BMX bumps.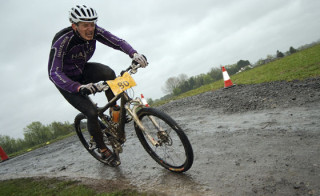 Race three of the day, saw five tightly fought out categories, with the Sport, Masters, Veteran, Grand Veteran and Expert/Elite riders tackling the now well churned up course. With several riders calling it a day and heading for a hot shower early in the race, some epic battles were materialising, ending with several sprints for podium positions. In the Expert/Elite race, former Cervelo road professional Dan Fleeman took the lead early on in lap one, which he consolidated with a carefully measured performance over the six lap race. Most riders were now opting to run the tricky wooded descent now but still a small number of highly skilled individuals took it on, without mishap, much to the relief of the waiting ATBRU, bike mounted first aider positioned at the bottom!
Round 3 of the series takes place at Top Barn on Sunday 3rd June, with the series final taking place at Birchwood Coppice, Storridge on Sunday 19th August
For full results and lap times please click here
---
British Cycling would like to thank the organising team, officials and everyone else who helped promote this event. Our sport could not exist without the hundreds of people, many of them unpaid volunteers, who put in many hours of hard work running events, activities and clubs.