Road To 2012
UCI Mountain Bike World Cup XCE/XCO
Round 2: Houffalize, Belgium

Homepage: Road To 2012 | British Cycling's Performance Programs Explained
Team GB Mountain Bike Roster | Join Team GB
Mountain Biking: Olympic Qualification Explained | UCI National Rankings
UCI Mountain Bike Cross Country Eliminator World Cup Round 1 Results:
Men | Women
UCI Mountain Bike Cross Country Olympic World Cup Round 2 Results:
Junior Women | Under 23 Men
Video Replay
Eliminator | Men Cross Country | Women Cross Country
---
Annie Last made history at Houffalize this weekend - sealing the first UCI Mountain Bike World Cup win of her career in the inaugural Cross Country Eliminator - backed up by 20th in the Olympic Cross Country; two results which almost certainly secures the first place for a British woman at the Olympic in over a decade.

The British Cycling Olympic Academy athlete again underpinned a line of results from the British Cycling Olympic Performance Programme, on a weekend which also saw Olympic Academy athlete Grant Ferguson score his first under-23 World Cup points and a squad of six juniors experience top level competition.
---
CROSS COUNTRY ELIMINATOR
British Cycling Olympic Academy Athlete Annie Last sealed the first UCI Mountain Bike World Cup win of her career capturing the inaugural cross country eliminator at Houffalize - a result which secures further UCI points in the race for Olympic qualification.
Last recovered from a crash in the final turn to take the win, withstanding pressure from Italy's Eva Lechner who twice attempted overtaking moves.
The British Champion, who led up the climb was probed once by Lechner on the descent to no avail, but on the second occasion Lechner cut to the inside. Last took back her line, forcing Lechner into a marking post and over the bars, knocking both riders to the ground.
Last was the quickest to her feet and made it over the finish line to take a career-first World Cup victory and was delighted as she spoke after the race.
"Leading off of the start made a massive difference, it means you have more control of the race and exit the first corner with more speed. I nearly lost it on the last corner - Eve tried to come up the inside and I closed her off a bit. We both came down and luckily nobody was behind to take advantage."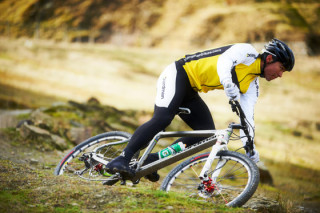 In the men's event, British Cycling Olympic Academy athlete Kenta Gallagher was unlucky to be knocked out in the semi-finals after Paul van der Ploeg crashed, forcing the under-23 British Champion off his bike.
Gallagher tried to get by, but van der Ploeg unintentionally caught his saddle in Gallagher's front wheel, spelling the end of the race for both riders.
Gallagher raced again in the small final, where he finished second and sixth overall.
Result
Women's Final
1 LAST Annie* GBR
2 LECHNER Eva ITA
3 RISSVEDS Jenny° SWE
4 TERPSTRA Anne* NED
Men's Final
1 LOPES Brian
2 FEDERSPIEL Daniel
3 GEGENHEIMER Simon
4 DISCH Severin
Men's Small Final
5 van der PLOEG Paul
6 GALLAGHER Kenta* GBR
7 KAUFMANN Lukas
8 LEMMERS Tim
---
CROSS COUNTRY
Annie Last rode a solid race in Houffalize to finish 20th and score more points for Olympic qualification. Last started the race in lead before settling into a chase group of ten riders as early breaks went off the front. In the closing laps the British Champion dropped seven positions, however Last's lap times were consistent throughout the race.
Olympic Podium Programme athlete Liam Killeen improved on his 36th place in the opening round to finish 29th in Houffalize. His final four laps of the six lap race were on pace for a top-twenty result, but a start loop finish of 54th cost him.
British Cycling Olympic Academy athlete Grant Ferguson bounced back from a hugely disappointing first round of the cross country World Cup to finish twentieth in Houffalize - his final lap the seventh fastest of all competitors.
Ferguson - who dropped from ninth to 27th in round one after puncturing with a half lap remaining - was forced to start from 96th on the grid and was forced to overtake throughout. By lap two Ferguson was in 34th, but his final two laps were 12th and seventh fastest, highlighting his potential if given a good gridding.
British Cycling Olympic Academy athlete Kenta Gallagher who finished 15th in round one was 27th in round two - a result effected by his effors in the previous nights cross country eliminator.
Two junior women - Olympic Development Programme athletes - Bethany Crumpton and Alice Barnes raced the first European World Cup. It was Barnes' first mountain bike World Cup and she finished 44th, while Crumpton, racing internationally for the first time since the 2011 World Championships rode in tenth on the opening lap and finished 16th.
Result:
Elite Men
1 ABSALON Julien FRA 1:30:22
2 SCHURTER Nino SUI +0:00:38
3 FONTANA Marco Aurelio ITA +0:01:03
other
29 KILLEEN Liam GBR +0:05:44
94 FLETCHER David GBR +0:12:21
Elite Women
1 PENDREL Catharine CAN 1:31:15
2 BRESSET Julie FRA +0:00:48
3 WLOSZCZOWSKA Maja POL +0:01:24
other
20 LAST Annie* GBR +0:05:05
Under-23 Men
1 CINK Ondrej* CZE 1:19:33
2 GEHBAUER Alexander* AUT +0:00:21
3 SCHELB Julian* GER +0:00:27
other
20 FERGUSON Grant* GBR +4:22
27 GALLAGHER Kenta* GBR +5:33
Junior Women
1 MOSCHETTI Margot° FRANCE 36:38
2 PUTZ Lena° GERMANY +0:02
3 WIEDENROTH Sofia° GERMANY +0:05
other
16 CRUMPTON Bethany° GREAT BRITAIN +4:12
44 BARNES Alice° GREAT BRITAIN +9:13
Junior Men
1 SEIGLE Romain FRA 1:05:07
2 FRISCHKNECHT Andri SUI +0:00:40
3 SWENSON Keegan USA +0:00:45
other
38 WELBURN Alexander GBR +0:06:29
52 EVANS Tom GBR +0:07:45
68 PATON Iain GBR +0:08:42
88 THOMPSON Michael GBR +0:10:40