Road To 2012
Talent Team And Olympic Development Training Camp
Homepage: Road To 2012 | British Cycling's Performance Programs Explained
Team GB Mountain Bike Roster | Join Team GB
Mountain Biking: Olympic Qualification Explained | UCI National Rankings
---
Following the induction of British Cycling's Talent Team and Olympic Development Programmes, a series of camps designed to shape pre-season training are already underway. Luke Webber followed coach Stuart Blunt and eleven riders on the first mountain bike session of the season.
Pump tracks, trials sections and trail riding on flat pedals; the new generation of cross country race course has directly effected how British Cycling's future stars of mountain biking train – and that's evident in the car park even before the session gets underway.
Wheelies, manuals and bunnyhops make an informal warm-up, before Stuart Blunt gathers the riders. Joined by World Cup downhill and fourcross rider Will Longden, riders are led through a series of sessions designed to challenge and progress skillsets as relied upon within the bleak environment of Lee Quarry, as they are at Champery, Val di Sole or Mont Sainte Anne.
It's a grounding insisted upon by British Cycling's Olympic Mountain Bike coach Phil Dixon, who until October personally coached all ODP riders – but who is now only directly involved with Olympic Academy and Podium Programme athletes.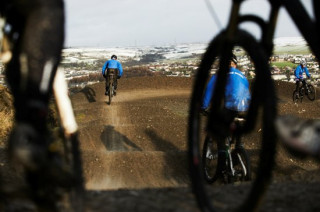 This is what young mountain bikers should be seeing - pump tracks, with friends who challenge each other to ride more and more challenging sections, before it becomes second nature.
The remaining setup – overseen by a wealth of British Cycling's development coaches – realises Dixon's plan; to leave young riders with a defined pathway in place to become the best in the world, while the world's biggest sporting event takes place in Britain.
It's the same pathway Grant Ferguson, Kenta Gallagher, Annie Last and David Fletcher followed; and although the Olympics are years away for current Talent Team and ODP riders, lessons learned at these camps are the foundation of wins on the world stage.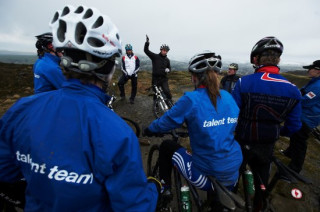 As the group session one of the Quarry's pump tracks, Longden talks to the group about a change in culture of the cross country racer, where the difference between the top ten and the podium is technical skill and not fitness.
"It's really important for them to realise at a young age the importance of being skilled on a bike and being able to handle all the conditions. Many of them will know this already – and what we want today to do is to highlight areas to work on, hopefully that will plant a seed of realisation of what areas they need to work on – the best will go away, work on it, improve and come back a better rider.
"It's too general to talk about how much time you should dedicate to technical training – but it should take up a major amount of thinking time when deciding on training. These riders should be out for a minimum of twice a week for an hour at least just to play around. And that would be on top of any general mountain biking – which has to include technical sections where you can apply what you're learning.
"But the ideal scenario should be a rider who loves riding mountain bikes and who doesn't feel like this is training – because they love riding mountain bikes."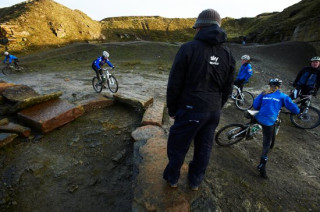 And according to Blunt, this culture change has effected the very antithesis of the Performance Programme's thinking; selection.
"For the first time, we're selecting cross country riders based on their skill level. We've selected people in the past who were physically very strong, but they have simply failed to progress.
"We learned from this and it shows – today we can take a group of junior riders to any track in the world and they will be able to cope with it. That means they can focus on the racing and not get beat by the course.
"The content of every training camp reflects this too, to the point that most of what we focus on is skill work, with all fitness training done at home. Any young rider aspiring to join the Programmes is well advised to master all the flat pedal skills; pumping, jumping, manualling. That's more important than doing hill reps.
"The ultimate for us is to have the most technically skilled riders in the world, then build the engines and the results will come."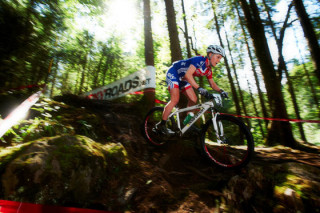 Annie Last - technically one of the world's best riders and reflective of the direction Phil Dixon has taken British Cycling's Olympic Mountain Bike Programmes