Road To 2012
Liam Killeen: "I want to be back on the World Cup podium"
Homepage: Road To 2012 | British Cycling's Performance Programs Explained
Team GB Mountain Bike Roster | Join Team GB
Mountain Biking: Olympic Qualification Explained | UCI National Rankings
---
British Cycling Podium Programme mountain biker Liam Killeen has insisted he wants to be back on the World Cup podium in 2012, but acknowledges it will mean everything coming together for the biggest international races.
Speaking exclusively to British Cycling just before Christmas, Killeen, who won the final round of the National Trophy Cyclo-Cross series at the weekend, says he will start to race earlier than usual in 2012, in addition to a different approach to training following changes to the duration of an Olympic mountain bike race – as revealed in a previous interview.
The last time Killeen stood on a World Cup podium was in 2006, where he finished second to Christoph Sauser at Mt. St. Anne, but he believes it is still possible to return to a level which saw him achieve fourth and seventh at the 2008 and 2010 World Championships, respectively – and all in time for August's London Olympics.
"I guess you can get nostalgic and reminisce about previous results but I think it is a good thing sometimes, I do have a good sense of pride, I know that I've done it so that has to help with your confidence. To get back to that podium everything has to come together, you have to be motivated, you have to have done a good period of training leading up to those races and there's no reason why that can't happen again.
"Obviously the Games are the main goal but before that I'd like to have a half dozen results that are confidence building, worthy results, on an international level. So I will pick out three World Cups where I'd like to be on the podium. I've said I have this ambition for a couple of years now, but I didn't perform as well as I should have over the past couple of seasons and this year has got to be different."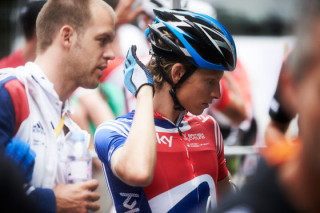 And Killeen's first step will be to start racing earlier in 2012 than previous seasons and before the opening round of the World cup in March – something he admits he has shied away from in the past couple of years – but which he will do with the help of British Cycling support staff.
"Working with British Cycling and Phil Dixon – the Olympic Mountain Bike Coach – is really good because they will tailor the season to optimise my performance for the Games. We have sat down and scheduled camps, organised a race calendar all for the Games, whereas on traditional trade teams you may have to go to different continents for sponsor obligations week in-week out and in terms of stress induced in travel for not super important races it is not good.
"The British Cycling team is now a young and established unit – everyone has performed at World level and they will continue to build on that, which is healthy. And having people close to you that are performing rubs off on you, too."