Road To 2012
Phil Dixon: "Applications To Join Performance Programmes Best Ever"
Homepage: Road To 2012 | British Cycling's Performance Programs Explained
Team GB Mountain Bike Roster | Join Team GB
Mountain Biking: Olympic Qualification Explained | UCI National Rankings
---
Applications to join British Cycling's Olympic Performance Programmes for mountain biking have been the best ever, thanks to current riders stepping into the limelight according to Phil Dixon.
British Cycling's Olympic Mountain Bike Coach since 2007, Dixon has overseen a landmark year for the programme which has achieved four medals at World and European Championships in the past 12 months.
A record number of applications Dixon believes, points toward an established pathway in place for young, developing riders to aspire to.
"It's good to have youngsters aspiring to be the next Annie Last's and Liam Killeen's. Going into Olympic year it is a healthy situation.
"There is a pathway in place, from Talent Team, to Olympic Development, Academy and Podium andit is great to see the system developing riders, giving them great opportunities to move through the pathways and move toward being mountain bike World Champions."

And Dixon is equally upbeat about the current state of mountain biking in Britain.
"I think the programmes have been instrumental in developing mountain biking performances, but I also think cycling as a whole in Britain is in a good place.
"We have has a good British Series for a few years, the level of the British Cycling Performance Programme has moved on and I think it's in the media and people are talking about the achievements – I think there is a lot of excitement when you come back from European and World Championships with results like we did."
The Performance Programmes include the remote-coached and camp-based Talent Team for riders aged 14-16 and Olympic Development for riders aged 16-18; the full-time and residential Olympic Academy for athletes aged 19-23 and the Olympic Podium Programme, for full-time professional athletes who are supported by British Cycling but often compete internationally for a trade team.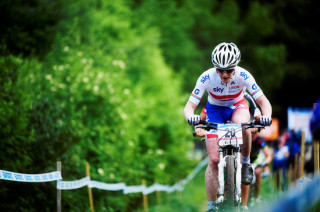 For those successful in their application to the Programmes, which have produced riders including Annie Last and Dave Fletcher, Dixon outlines exceptional opportunities through winter and into the 2012 season.
"I think the riders who have applied to the Programmes and are successful in their application have a lot to look forward to, including working alongside a great group of really talented athletes, lots of hard work, bike riding, different types of training – essentially being in the best environment possible to improve and to reach their goals.
"Ultimately, any rider joining the Programmes will have the team support to learn about all the foundation stones that go toward creating a world-class mountain bike racer."
British Cycling will be announcing riders selected to join the mountain bike Performance Programmes later this month.