Location: Newnham Park, Plymouth
Event: 24 September 2011
This weekend sees the final round of the British Cross Country Series take place at the spiritual home of British cross country racing - Newnham Park.
A new course has been sculpted by local trail pixies Jay and Maddie Horton and will provide a fitting test to decide the overall series champions.
As a UCI category 2 race this will provide the last opportunity, this season, for British based riders to pick up ranking points and help them on their journey to London 2012 and British Champions Annie Last and Liam Killeen are both entered. With series leader Oli Beckingsale out injured the Elite series title is wide open and should come down to a fight between Scottish Champion Dave Henderson, fellow Scot and GT team mate Gareth Montgomerie and England's Dave Collins and Seb Batchelor.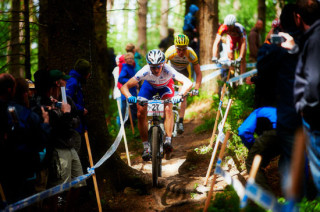 In Elite Women it is similarly wide open with the winner being either Irish, German, English or Welsh as Cait Elliot, Mel Spath, Maddie Horton or Mel Alexander battle it out.
Last round attendance is mandatory for series podiums so the age and ability categories have a multitude of winning options. In Junior Men, Matt Sumpton is leading the series but suffered an injury at the World Champs a few weeks ago and may not recover in time, with Grant Ferguson now with an opportunity to win the Series. Junior Women looks like a straight winner takes all shoot out between Beth Crumpton and Katy Winton.

Youth and Juvenile racing has really grown in numbers this year and although Ffion James and Calum Magowan have the Juvenile series all but sewn up (with 4 wins out of 4 each) the other podium spots are very much up for grabs. In Youth Girls series leader Amy Barnes is not planning to race so the series win is open to 6 riders, in Youth Boys Iain Paton just needs to show to take the title but again spots 2 and 3 are a lot less clear.
The battle for elite qualification ensures that the Expert races at the last round are always hotly contested, Lee Westwood looks to have the male title secured but 4 riders could win the female category and they will all be keen to secure elite level status for 2012.
In Masters Phil Morris, Ed Moseley and George Rose will battle for the lower steps of the series podium behind Matt Dennis. Veteran Men is any one of Paul Hopkins, Mark Chadbourne, Lewis King and Ian Jeremiah, in Veteran Women Nicky Hughes, Ruth Thompson and Helen Macgregor have been beating each other all year and whoever wins on Saturday will take the series.
In addition to the XC action there will also be a floodlit Cyclo Cross race in the evening and to celebrate the final race of 7 years of orgnaising the British XC series the organisers are planning an end of season party, with live band, to say a fond farewell. Spectating is free and camping is available on site.