---
The third race in the Hope Technology sponsored series saw great weather for racing with Lee Quarry showing its ability to shake off recent heavy rain. The course design included a couple of new "off-piste" sections to keep the riders on their toes.
The Racer category were off first and with race two winner Tom Albutt marshalling due to a knee injury Dan Evans (Rhos on Sea CC) repeated his race one performance taking an early lead to claim the first lap prime pushed hard by John Hopkinson (Aire Valley Cycles). David Bentley (Leisure Lakes) was running at the back of this leading group of three until a mechanical put him out of the race. Dave Haygarth (Wheelbase/ Cannondale) another podium contender dropped out on lap two with a puncture. Dan and John then continued in the lead finishing three minutes clear of Jiri Klekner (Wheelspin Cycles). Dan taking home £125 in winnings vouchers from the sponsor Leisure Lakes. In the Cookson Cycles sponsored Racing Diva's Joanne Clay lead from start to finish lapping the field in a strong performance in her first race of the series. Elaine Powell (Marmalades B&B) put in a consistent ride to hold off Jo Holden to complete the podium places. Deborah Goodall (Big Bear Bikes) was off the pace due to her recent focus on running but post race revealed that she is planning to refocus her training in time for the series finale. With prize parity with the Racer category Joanne takes home £125 of Cookson Cycles vouchers with Elaine getting £50 and Jo £25. All is still to play for both the series competitions and the prize of a Hope Technology wheelset.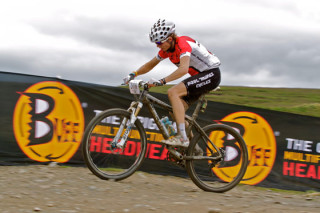 Matthew Holstead (Marmalades B&B) took the honours in the Big Bear Bikes sponsored weekend warriors holding off the race two winner Ben Howe with Morgan Lloyd (Big Bear Bikes) taking third just holding off Edwin Waite. Big Bear Bikes Bikes shop owner David Beeley put in a consistent performance which now puts him in the lead of the series competition for a Hope Technology brakeset. The Big Bear Bikes team domination of the trade competition moved up a gear with Leisure Lakes their main challengers having a disastrous race losing their three strongest riders this week due to mechanicals or falls. Leisure Lakes Directeur Sportif Matt Chester fresh from his honeymoon clearly taking the results personally vowed to return with his housecarl's to the series finale and the final showdown.
The SRAM Have-a-go Heroes category was dominated by Ray Morris (Newcastle Tri Club) with John Hardy and Chris Thomas taking second and third place respectively. The SRAM Have-a-go Heroine category saw Maddi Smith Holden riding clear lapping the field for her first win of the series). Kathryn Robinson returning to racing took second place and Melody Dark third. The Polaris Bikewear sponsored "Lads" category for younger riders again ran with a high quality entry and a number of strong young riders, Billy Harding (Paul Milnes/ Bradford Olympic) took first over two minutes clear from, Edwin Oliver-Evans (Harrogate Nova) second and Dylan Kerfoot-Robson third.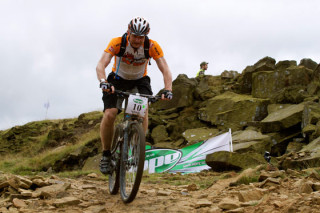 Thanks and appreciation go to the Buff sponsored marshals who benefited from their Buff in the quarry breeze and took home a basket of prizes including Singletrack Magazine subscriptions, Hope goodies and CRUD catchers. The DHP11 sponsored sign-on/ timing team did a sterling job under great pressure. Thanks also to Lancashire CC for use of Lee Quarry and the local residents who tolerate the early morning disruption. A big thanks to the early bird course marking team who turned up at 07:00 to assist with the course setup.
Race 4 is on the October 2 and pre-entry is still open. A new course design with more "off-piste" finds should shake things up and there is the added attraction of trade stands from Leisure Lakes and Big Bear Bikes, on-site catering, facilities and plenty of car parking for riders and spectators.
RACE DATES:
Series Final: October 2.
Online entry open via www.xcracer.com the downloadable postal entry form is here
Want to part of the fun and get a free Buff then join our marshalling team info@brownbacksracing.co.uk
---
British Cycling would like to thank the organising team, officials and everyone else who helped promote this event. Our sport could not exist without the hundreds of people, many of them unpaid volunteers, who put in many hours of hard work running events, activities and clubs.