UCI Mountain Bike World Cup DHI
Round 7 Val di Sole, Italy

UCI Mountain Bike World Cup Round 7 Results
Men | Women

---
Tracy Moseley and Manon Carpenter are the 2011 UCI Mountain Bike World Cup Downhill series champions, following the final round in Val di Sole.
Moseley won the senior title following four wins in seven rounds - the reigning World Champion starting the season with two wins and never finishing off the podium - while Carpenter took the junior title, returning from a season-ending crash in 2010.
For Moseley it was a second career series title, last winning in 2006. A string of individual wins since always kept her in the frame as one of the world's best, but Moseley hadn't managed a consistent series - until 2011.
Following a breakthrough World Championship win at the end of 2010, a rejuvinated Moseley looked unbeatable in early season, ultimately taking the series title.
For Carpenter the overall win was payback for 2010 when she crashed out in the final round and missed the World Championships - which she will race in two weeks time in a bid for another junior title.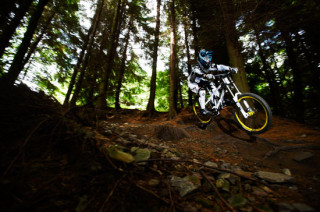 After Gee Atherton's World Cup series win in 2010 the series was baron of a British men's winner in 2011 - but there were breakthrough performances from the newest generation of British downhillers.
Danny Hart finished second in Val di Sole and Fort William, announcing his arrival on the international scene and Josh Bryceland took his career best result.
Atherton would finish third overall following some mechanical issues at two races, which cost second-place. But ultimately only Aaron Gwin was in contention for the series, winning five of seven rounds.
British Results
UCI Mountain Bike World Cup Round 7
Men: Danny Hart (2nd), Gee Atherton (3rd), Josh Bryceland (11th), Marc Beaumont (13th), Matt Simmonds (16th), Joe Smith (22nd), Adam Brayton (29th), Brendan Fairclough (30th), Greg Williamson (34th), Bernard Kerr (35th), Fergus Lamb (38th), Jack Reading (39th), Ruaridh Cunningham (43rd), Steve Peat (47th), Oli Burton (62nd), Harry Heath (69th), Emyr Davies (70th), Joe Connell (74th), Harry Molloy (75th)
Women: Rachel Atherton (3rd), Tracy Moseley (5th), Manon Carpenter (8th, 1st junior), Jess Stone (12th), Fionn Griffiths (18th)
UCI Mountain Bike World Cup Series Final Standings
Men: Gee Atherton (3rd), Danny Hart (4th), Josh Bryceland (10th), Steve Peat (11th), Marc Beaumont (12th), Ruaridh Cunningham (25th), Joe Smith (28th), Brendan Fairclough (29th), Ben Cathro (37th), Matt Simmonds (38th), Harry Heath (42nd), Sam Dale (43rd), Lewis Buchanan (44th)
Women: Tracy Moseley (1st), Rachel Atherton (3rd), Manon Carpenter (10th, 1st junior), Fionn Griffiths (11th), Jess Stone (17th)