UCI Mountain Bike World Cup XCO
Round 7: Val di Sole, Italy

Homepage: Road To 2012 | British Cycling's Performance Programs Explained
Team GB Mountain Bike Roster | Join Team GB
Mountain Biking: Olympic Qualification Explained | UCI National Rankings
UCI Mountain Bike World Cup Round 7 Results:
Elite Men | Elite Women | Under-23 Men | Junior Men
---
In a week when Great Britain moved from 18th to 15th in the women's Olympic qualification rankings, Annie Last took her second top-ten World Cup result in seven days.
Coming off the back of a silver medal in the under-23 European Championships and a career-best sixth place finish in last weeks World Cup, Last - a British Cycling Olympic Academy athlete - rode into the top ten at Val di Sole.
Starting on the second row of the grid, Last moved her way into third place on the start loop to gain perfect position. On lap one the British Champion rode in the top five, before dropping back into a more comfortable top-ten position.
On a hot and brutal course, placings were constantly changing and for a time Last slipped out of the top ten as attacks were launched. But a consistent approach was favoured and in her first return to Val di Sole since 2008 - where she finished ninth in the Junior World Championships - Last rode her way back into tenth place, outsprinting Marie-Helene Premont on the line.
Racing in the senior event - despite still being an under-23 - Last's result placed her 16th in the conclusive World Cup Series standings, her season results being 20th in South Africa, 14th in Britain, 39th in Germany, 26th in Canada, 19th in America, 6th in Czech Republic and 10th in Italy.
Last returns to action on September 1 as an under-23 at the Mountain Bike World Championships, where she secured a silver medal in 2010.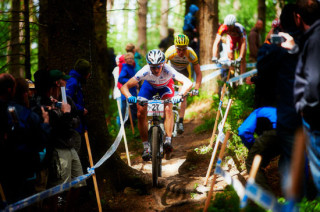 Liam Killeen completed his 2011 World Cup season with a 28th place finish, missing out on his ambition of returning to the top-ten. His season highlights came at round three in Germany and round five in America where he finished 16th and 17th respectively.
Last time Killeen raced at Val di Sole for the 2008 World Championships, he crossed the line in fourth position and at the 2010 Worlds in Canada he returned to the top ten once again, with seventh place.
In two weeks the World Championships take place in Switzerland, where Killeen has his final chance to realise his season-goal; to get a top ten placing in international competition.
Kenta Gallagher finished his rookie season in the men's under-23 World Cup with a 30th place at Val di Sole, concluding a season of progression and adaptation from the Junior ranks.
British Cycling's newest Olympic Academy athlete, Gallagher progressed from two years on the Olympic Development Programme where he twice finished top-ten in Junior World Cup races.
In 2011, Gallagher's debut in the under-23 World Cup resulted in 57th place, but he went on to take three top-thirty placings and the under-23 British Championship as the year progressed.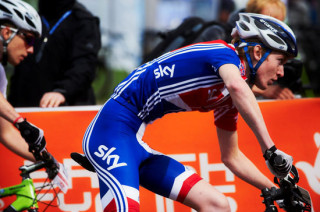 British Cycling Olympic Development Programme athlete Grant Ferguson returned to international competition two weeks on from a silver medal at the European Championships and immediately reinstated himself in the World's top five.
In a Junior field reflecting the expected starters for the World Championships, Ferguson rode a consistent pace and will now prepare for the fina international competition of 2011.