Rider Diary: Tracy Moseley

Interview with Tracy Moseley - September 2009
Britain's most established female downhiller, Tracy Moseley has been racing at the highest level for 15 years and is one of the only gravity racers to have won a round of both the downhill and fourcross World Cup, alongside multiple national titles and the prestigeous UCI Downhill Mountain Bike World Cup in 2006. Finally the UCI Downhill World Champion in 2010, Moseley followed in the footsteps of Steve Peat, when pulling on a long-awaited Rainbow Jersey at Mont St. Anne. Read Tracy's feature-length interview here, before catching the latest in her rider diary.
August 17 2011
Back to back World Cup races seem to get harder the older I have become! The whole time in Leogang I just felt a bit fatigued. I think from all the pressure, exertion and emotion from Fort William my body just wanted to hibernate for a few days but sadly it was World Cup Round 3 and I now had a World Cup lead I needed to defend! The track in Leogang was largely unchanged however the changes they had made seemed to make the track easier, just more berms and the removal of a few tricky sections. The weather however did not make it any easier and the top section after rain the night before the race turned the mud into what felt like riding through glue! As the track dried during the day it just got sticker and sticker and just getting through some of the top ruts was hard work! I had struggled to feel confident and fast on the track all week and ended up with a third place finish which I was actually really pleased with when I knew I was just not on the pace.
After Leogang I had two weeks at home which was perfect as I didn't feel as though I had really stopped since leaving for South Africa in March. I had some rest and also some time for some good training. I did a local 10 mile time trial which was very painful and also went over to Eastnor and rode a lap of the Mountain Mayhem 24hr race course. Every year they seem to have a wet event and this year was no different, I had great fun sliding around in the mud! I was planning to race the National downhill at Llangollen the weekend before flying out to Mt St Anne for the next world cup, but I decided to take the time to do some quality training and try and feel fresh and strong for the next World Cup, as it was going to be an important race for me.
Mont Sainte Anne has always been one of my favourite stops on the World Cup Tour and one I have been to the most with my first ever World Cup being there in 1997! Winning my World title there in September only cemented it further as a track with even more great memories and this year I had set my goal to win there.
Yet again the weather was not in our favour...it looked as though it had been raining all year as the track was so saturated in water it was just running out of the ground. Dense fog during practice also made visibility tough and qualifying was one of the hardest races of my career. The top section was so thick with mud it was really hard going just to keep moving forward. Luckily conditions began to improve for race day and the track was running much faster. I managed to cope with the pressure and take maximum points with a win in qualifying and the final. It also pushed my World Cup win tally up to 15 which was a pretty cool achievement.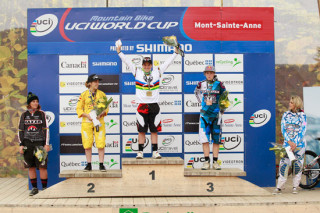 We had a couple of days in Canada after the race before moving down to Windham, just enough time for a team outing to the go kart track. It's an annual trip after the race and was pretty fun. No surprises that Aaron Gwin took yet another win, but I also got beaten by young Trek Gravity Girls rider Jess Stone who has only just passed her driving test; I am not looking forward to getting in a car with her at the wheel!
Returning to Windham was an event I was looking forward to as I really liked the small town feel of the area and the track was although super short, really good fun. We still encountered a little rain and some thunderstorms but essentially we had pretty dry race course which was a nice change.
I remember taking a few runs to get into the track in Windham last year and this year was no different. There were a few sketchy sections and a blind awkward jump that I never looked forward to having to do! I didn't feel as though I had the speed on this track and I didn't quite, finishing third in the qualification and the final. I was still really happy to be only a few seconds off and still in the lead of the World Cup overall. Also great to see Rachel Atherton take her first win of the year.
Straight after Windham I flew to Denver for some Trek dealer visits and to help out at the Trek Dirt Series Camp in Winter Park. It was a busy week but I had chance to visit a few different places and do some riding in Colorado Springs, Boulder and in Winter Park. It was beautiful riding just all a little oxygen deprived...Winter Park was at around 10,000ft so any little effort left me gasping for air! Everytime I rode a section during the coaching weekend and then pushed back up to my group to talk through it I could barely talk! The Trek Dirt Series was a great event and so encouraging to see so many women out on mountain bikes, all sorts and ages of women it was wicked. I really do think that the sport is still growing fast as so many people said to me "I wish I had found this sport when I was younger!" It's still a new sport and still appealing to more and more people every year.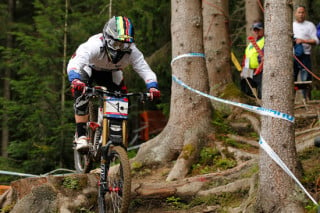 Finally after three weeks stateside it was time to return to the UK for a brief time. Just enough to race the British Championships at Llangollen, Wales. It is always an important event and now the UCI have come to a compromise with riders only having to wear a sleeve with their nations flag on to depict they are the current national champion rather than a full jersey, it seems most riders are now keen again to take part. Sadly we didn't have a full field in either the men's or women's categories and I hope in the future more people will make the effort to be there. It was certainly a challenging track, with a serious steep section for the first 30 seconds of track. So steep you were pretty much just locked up sliding down a rut....fun to ride but not much fun to race. There were so many crashes in practice that getting a clean run was pretty rare. I also spent all day doing what we do best as Brits...queuing ! The UK uplift system still has a long way to go as getting more than four runs a day required not stopping for any lunch at all!
I was really happy to take my eighth British Downhill Title and it was great to see such a well supported event in the UK. The lovely weather helped, but there were tonnes of spectators and a great atmosphere for the biggest domestic race in the UK.
Next stop is Europe for the final leg of World Cup racing and the World Championships....time to defend my jersey!