Road To 2012
Annie Last: "Julie Bresset Is Beatable"

Homepage: Road To 2012 | British Cycling's Performance Programs Explained
Team GB Mountain Bike Roster | Join Team GB
Mountain Biking: Olympic Qualification Explained | UCI National Rankings
Annie Last is chasing gold. One week on from silver at the European Championships and with thee weeks until the World Championships, Britain's first cross country rainbow jersey is tantalisingly close - but for one rival. Luke Webber asks how it's possible to win and why it would mean so much one year out from London 2012.
Two seconds per-kilometre is how Annie Last rationalises the chance of making history for the second time in a month; following the first time the British Performance Programme scored two medals at an international championship and now faced with the reality of becoming Britain's first cross country World Champion. But one woman stands in the way of the British Champion.
"Julie Bresset is beatable, of course" Last tells me, despite being overshadowed by the young Frenchwoman in every head-to-head competition this season.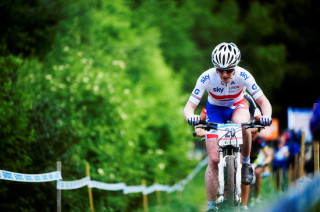 What started at round two of the British XC Series continued at every World Cup and the European Championships, setting the odds firmly in Bresset's favour; but the statistics don't tell the whole story.
Both Last and Bresset are extraordinary athletes. Both consistently the best two under-23 riders in the world, both electing to ride the elite World Cup - despite the introduction of a separate under-23 competition.
But in Championship racing, riders are compelled to ride in their age-group and for the first time in 2011, the European Championships put Last and Bresset on an even standing.
Racing on a clear track, without a hundred-strong field of riders and backmarkers to battle against, the two most promising talents in women's cross country racing were clear to race and it was an experience from which Annie took every positive.
"The Europeans were a great reminder of what it's like to ride at the front. It was possible to ride the race to a plan, rather than having to fight for every position and constantly lose time as those ahead crash, fall or simply bottleneck to a standstill."
A perfect start resulted with Last taking an early lead, before Bresset - a climbing specialist - to passed on the single ascent of the course.
"She came past me and I was on the wheel. The course was one big climb and one big descent, without any real technical challenges. On the first lap I followed Julie, as the hill progressed and momentarily kicked up. I only lost her at the very top, where it turned steeper."
That loss translated to ten seconds per lap - and in a five lap race the gap at the finish was less than one minute.
"I felt strong and I was happy with the race; Julie is one of the best riders in the world. Losing ten seconds per lap in a five lap race; that's around two seconds per kilometre. That's not so bad, and I like to think I have room for improvement. I can't predict what kind of shape Julie was in for that race, whether she will get better or worse between now and the World Championships, but I do know I have a lot of places I can make up time, so I will focus on that."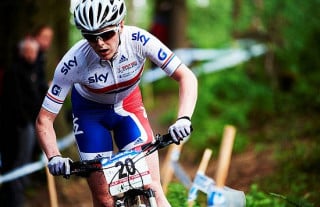 HORSES FOR COURSES
Such focus is essential, as there is more than the passing of time to differentiate between the European and World Championships - two World Cup competitions in the Czech Republic and Italy will mean riders must carefully tailor their training to peak for cycling's biggest annual event.
Perhaps the biggest difference though is the course. Whereas in Dohnany there was an extended climb and few technical features, the expectation is for the World Championship track in Champery, Switzerland to feature many challenges of bike handling, disrupting any climbing rhythm and instead focussing on acceleration, skill and finesse over a pure test of fitness. And it's a difference Last is well aware of.
"I like the Champery course; it is a lot more technical than the European Championships which was more of a physical test. I do think the Worlds will be a different test between Julie and I, but the basics still need to be looked after - a good start is essential."
And leading a World Championship is not new for Last, who was in pole position at the same event in 2010 for four of five laps, only to fade in the closing stages.
"Last year it was never the plan to lead the race for so long, but I didn't ever feel like I was riding too fast and getting carried away. On the final lap I was pushed into second, but that was because I suffered in the heat and just went pop. It was one of those things to learn and take forward to other events."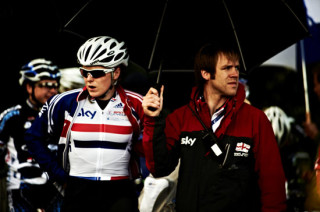 OLYMPIC GAMES
Asked if such events could include an appearance at the London Olympics attracts a similar relaxed attitude from a rider who could be the first British mountain biker since Caroline Alexander to ride at the Games. When Alexander raced in Sydney 2000, Last was just ten years old and was still yet to race a bike.
"I have short term plans at the moment, they are focussed around these final races and getting to the end of the season. The new season starts as soon as this one finishes.
"Obviously getting to the Olympics would be nice, an amazing experience, but it is a long way to go until that time and we are still yet to qualify. I am also young, just 20 and I've got a lot of developing to do as an athlete. I don't know if the Olympics are in the picture or not. I am just racing, doing my best and if we do qualify, I want to be in the best position to be the rider who gets chosen."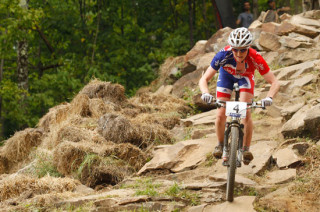 Annie Last raced to second in the 2010 World Championships as an under-23 - can she go one better in 2011? (Photo: Gary Perkin)