Road To 2012
Phil Dixon Reflects On Britain's Best Championship
Homepage: Road To 2012 | British Cycling's Performance Programs Explained
Team GB Mountain Bike Roster | Join Team GB
Mountain Biking: Olympic Qualification Explained | UCI National Rankings
Two medal performances in one international competition made the 2011 European Championships a landmark moment in British cross country mountain biking. Luke Webber talks to British Cycling's Olympic Mountain Bike Coach, Phil Dixon, about the moment and the future of qualification for London 2012.
"This weekend shows the system is working" - the opening gambit from Phil Dixon following a weekend of success for British Cycling's Olympic Performance Programme.
Four years on from Dave Fletcher's bronze as a junior at the World Championships and one year on from Annie Last's under-23 World Championship silver - the only two cross country medals won in the past five years - Dixon presided over the team's most successful competition yet.
Two silver medals from under-23 Annie Last and junior Grant Ferguson, placing Britain fifth in the medal table were results borne from two riders sharing seven years of British Cycling development and a Performance Programme constantly striving for only the best results, as Dixon is keen to stress.
"The set of results has been a consequence of a vision for the future of Olympic mountain biking in Britain. And to get to that vision you have to work hard. The results achieved by the riders this weekend prove that the hard work is paying off and the systems are in place for riders to achieve their best. There is still a lot of hard work remaining to achieve this vision; but I have a talented group of riders I believe in across all categories."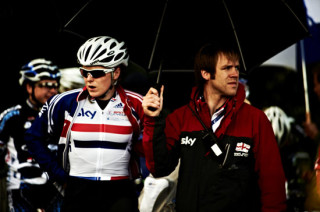 A constant period of change and progression toward the goal of two men and one woman on the Olympic start line influenced what Dixon describes as a compact but strong European Championship squad - but it didn't come without sacrifice.
Sending only one rider to the Olympic Test Event was not a popular decision, Dixon admitting that in an ideal world a full squad of riders would have attended.
"Unfortunately," Dixon quipped, "we don't live in this ideal world. We came off the back of two World Cups and the British Championships into a block of four races which represent the biggest potential to score points to qualify for the Olympic Games. Between the two periods, you can either train and come into this final block with the best shape, or compete in races with no Olympic qualification points and come in without perfect shape. Racing the Olympic Test Event, only to lose positions on the start line itself would not have been good for the sport."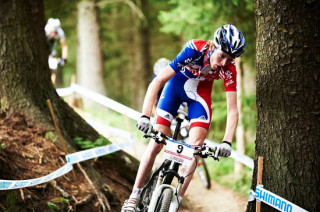 BUILDING TOWARD WORLDS
With the first of a block of four races essential to Olympic qualification complete, the Europeans served as a warm-up in a period of huge potential as Annie Last is rejoined by Liam Killeen for business as usual at two rounds of the World Cup - where Grant Ferguson will guest at Val di Sole - before the highlight of the year; the World Championships.
And on a far more technical course, Dixon believes both Ferguson and Last have the potential to go one better and strike gold
"I told Grant to measure his expectations at the Europeans; to race and pay attention to the details, not take crazy risks, ride smooth, get back to the basics of racing a mountain bike. It was after all his first competition back. With the Val di Sole World Cup to follow, hopefully he will progress.
"Annie has a close rival in Julie Bresset - she is a great athlete. The course at the European Championships was made for her but Annie finished the closest she has been to Julie all season. After the race Julie commented that it was harder than a World Cup - both riders were 100% on it. But in Champery the course is different, it is a real technical test and that will change the pattern of things."
The Road To 2012 resumes this weekend at round six of the UCI Mountain Bike World Cup.