Road To 2012
UCI Mountain Bike World Championships Team Selected

Homepage: Road To 2012 | British Cycling's Performance Programs Explained
Team GB Mountain Bike Roster | Join Team GB
Mountain Biking: Olympic Qualification Explained | UCI National Rankings
British Cycling has announced a ten rider team for the 2011 UCI Mountain Bike Cross Country World Championships - to take place in Champery, Switzerland, August 31-September 4.
Note: Downhill and Fourcross selections will be made following the next two World Cup races, giving every opportunity for riders to achieve the selection criteria.
Riders selected to represent Great Britain
Elite Men:
Liam Killeen
Oli Beckingsale
Elite Women:
TBA - following European Championships
Under-23 Women:
Annie Last
Under-23 Men:
Dave Fletcher
Kenta Gallagher
Junior Men
Grant Ferguson
Matt Sumpton
Junior Women
Bethany Crumpton
Katy Winton
Team Relay:
Grant Ferguson, Dave Fletcher, Kenta Gallagher, Tracy Moseley
OLYMPIC QUALIFICATION
In line with the aims of British Cycling's Performance Programmes - and as discussed earlier this year - a senior team has been selected representative of an Olympic cycle within one year of the Games - Elite and Under-23 riders chosen with the express aim of scoring UCI points to qualify at least one male and one female place for 2012.
Available riders who look likely to be Britain's top three UCI points scorers for the second year of qualification are all represented in the selection - British Cycling Performance Programme Athletes Liam Killeen, Annie Last and Dave Fletcher, and Oli Beckingsale. A decision on representation in the Elite women's race will be made following the European Championships, strictly adhering to the selection policy of scoring UCI points to qualify rider(s) to the Olympic Games.

Liam Killeen - seventh at the 2010 World Championships
TEAM RELAY
Carrying UCI points, which will be added to both men's and women's Olympic qualification points totals, British Cycling has selected a Team Relay squad consisting of three riders taking part in individual events and Tracy Moseley.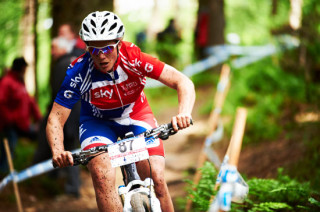 Tracy Moseley - 2010 UCI Downhill Mountain Bike World Champion
Moseley - Downhill World Champion - expressed an interest in competing in the Team Relay over winter and due to the specific nature of the Champery course, has been selected to ride only for the Team Relay event.
British Cycling Academy athlete Annie Last - Britain's best female UCI point scorer - will race the following day in the under-23 category for the second time in 2011, having raced up a category in the elite women's UCI Mountain Bike World Cup.
British Cyling Academy athlete Lily Matthews is still recovering from an injury sustained earlier in the season and will not race.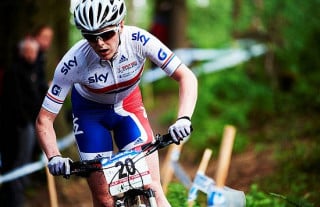 Annie Last - Silver medallist at the 2010 UCI Mountain Bike World Championships - under-23
OLYMPIC DEVELOPMENT
With a consideration of young athlete development and the 2016 Olympic Games, a strong Junior team of four riders has been selected. Each rider has proven results on the international circuit in 2011 and are strong prospects for the future.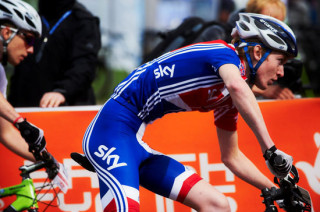 British Cycling Olympic Development athlete Grant Ferguson will take part in his second Junior World Championships and is joined by British Champion Matt Sumption.
Beth Crumpton and British Cycling Olympic Development athlete Katy Winton have both scored top-five World Cup finishes in 2011 and will represent Great Britain in the Junior women's event.
British Cycling will have complete coverage of the 2011 World Championships from within the team camp from August 28.