| | | | | | | | |
| --- | --- | --- | --- | --- | --- | --- | --- |
| | Follow britishcycling.org.uk on | | | | | | |

Annie Last Gives Young Hopefuls Masterclass
Posted June 14 2011
Youngsters aiming for future glory in mountain biking have been shown what it takes to be the best today as Great Britain Cycling Team's Annie Last led a masterclass in cross country racing ahead of the Sainsbury's UK School Games in Sheffield.
Last took the group of aspiring champions down the course at Wharncliffe and Wheata woods near Sheffield, which will be the venue for the 2011 Sainsbury's UK School Games mountain bike event.
Over 1,600 will compete in the Sainsbury's UK School Games across 12 sports including disability events in four sports from 1 - 4 September 2011. The multi-sport event is delivered by the Youth Sport Trust and designed to replicate a major championships with Opening and Closing Ceremonies and an Athletes' Village.
Whilst showing off the technique and skill that helped her take a silver medal at the 2010 under-23 World Championships, Last was quick to recognise the role that the Sainsbury's UK School Games plays in preparing talented youngsters for a future as a professional athlete.
"Giving young people the chance to compete in a multi-sport event like the Sainsbury's UK School Games gives them a real head start in knowing what it's like to compete at the very highest level," said Last. "I hope that by passing on my advice to these youngsters they can work and train hard, perfect their technique and go on to future success in the sport."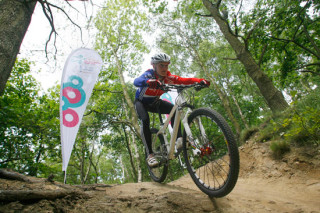 British Cycling's Gary Coltman added:
"This is the third year British Cycling has been involved in the Sainsbury's UK School Games. From the opening and closing ceremonies, to the athletes' village, the whole experience gives a real insight for the young competitors about all aspects of taking part in a major multi-sport event."
To find out more about this year's Sainsbury's UK School Games visit www.ukschoolgames.com.