| | | | | | | | |
| --- | --- | --- | --- | --- | --- | --- | --- |
| | Follow britishcycling.org.uk on | | | | | | |

Road To 2012
Phil Dixon Confident On British Olympic Mountain Bike Qualification
Posted May 24 2011
Words And Photography By Luke Webber
Homepage: Road To 2012 | British Cycling's Performance Programs Explained
Team GB Mountain Bike Roster | Join Team GB
Mountain Biking: Olympic Qualification Explained | UCI National Rankings
British Cycling's Olympic Mountain Bike Coach, Phil Dixon, has spoken of his confidence and ambition as year one of the qualification battle for London's Olympic Mountain Bike race comes to an end.
According to Dixon, the landscape looks very different to the same time last year, even though Britain's home World Cup event - which opened the two-year Olympic qualification timeline - provided British Cycling Team riders with personal best results on both occasions.
Speaking earlier this year Dixon confirmed the Team's strategy would be to qualify a minimum of one man and one woman to the Games, but following what he describes as the best set of World Cup results for the British Cycling Team under his management, a more optimistic qualification aim has been set.
"I'm now in a place where I'd like to secure more positions than the minimum of one for men and one for women. I think it's possible, I think the riders are coming forward now; maybe not in the women's, we'll see how it goes, but definitely in the men's."
Dixon continued:
"In terms of current qualification, it's a nice place to be - we aren't safe by any means - but I'd like to think we're moving forward as far as performances are concerned. And if we continue to move forward we're either going to hold the current position or move higher."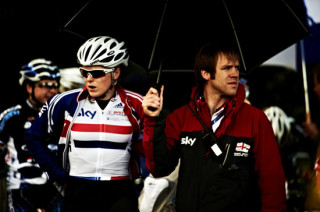 END OF YEAR ONE
Round two of the UCI Mountain Bike World Cup marked the end of year one of Olympic qualification - and with British riders recording personal-best results - including Annie Last and Dave Fletcher - Dixon had reason to be buoyant.
Further points were secured by Liam Killeen, who finished 30th in the Elite men's race, while the Pro Sprint Eliminator saw results from Annie Last score again - taking the total tally to 141 for men and 135 for women over the weekend.
Concluding year one of the qualification process - where points are scored by the top three UCI Nation Ranked individuals - leaves Britain ranked 12th for men and 15th for women. This means at the half-way point, Britain would provisionally qualify two men and one woman to start at the 2012 Olympics.
However, as year two starts, points scored are reset; as are the individuals who can score them.
In year one Liam Killeen, Oli Beckingsale and Dave Fletcher were Britain's three highest-ranked individuals; therefore it was their points only which counted toward Britain's final year one Nation Ranking for the Olympics.
In year two however, all points are zeroed before totals from year one and two are combined; meaning the three highest-scoring individuals between May 2011 and May 2012 could be different.
The same scenario is true for women's rankings, where year one points-scorers were Annie Last, Lily Matthews and Maddie Horton.

YEAR TWO BEGINS
But even with year one accounted for, there is no letup in the qualification bid for London 2012, as the British Cycling Team head to Offenburg, Germany for round three of the UCI Mountain Bike World Cup for another weekend of intense competition and such a packed schedule leads Dixon to a simple conclusion.
"Going in to year two is business as usual really, train hard, work hard, get race results. Don't do that and you won't get anywhere really."
Dixon continues by looking to the long-term and two obvious scenarios that can play out.
"Qualification-wise, we're looking to cement that over the rest of the season before we can really take stock and decide whether we need to pull the chamois on somewhere sunny in the winter and go bike racing, or if we go back to a winter of training. But at this point I'm confident we are in a good position."
You can follow the next step on British Cycling's Road To 2012, as round 3 of the UCI Mountain Bike World Cup is broadcast live, this Sunday on Freecaster.