| | | | | | | | |
| --- | --- | --- | --- | --- | --- | --- | --- |
| | Follow britishcycling.org.uk on | | | | | | |

Sally Bigham: Minding The Gap
Words And Photography By Luke Webber
Posted February 11 2011
For over a decade academia has been a way of life for Sally Bigham, but 2011 sees the three-time British Marathon Champion take her first ever gap year. Luke Webber discovers what full-time racing holds and how it feels to realise 2009s dream; becoming a professional mountain bike rider.
One year ago Sally Bigham was a perfectionist making compromises with no escape. Working full-time as a doctor and university lecturer then racing bikes at the weekend may have bought results including a top ten at the World Championships, but knowing there is more to achieve weighs heavy on the mind of a perfectionist.
Speaking in late 2009, Bigham was unsure a balance could ever be reached; questioning her ability to take a break from academic pursuits to turn pro. One year on and following encouragement from her peers, the books have been packed away as Bigham prepares to live the dream.
As with any decision academics take, there has to be acceptable reasoning and Sally has that covered.
"Lots of people take a year out between their A-levels and their degree and I never did it, so this is my gap year."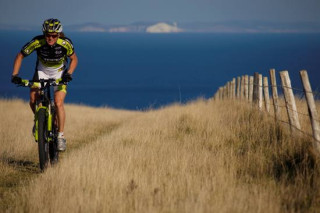 But the decision to leave her academic responsibilities was not one that came easily - Bigham still completing journal articles and supervising PHD students - in a year out during which the priorities are important to focus on. Top of that list is learning to enjoy the ride and embrace her decision, something fraught with tension from the time the opportunity to take a sabbatical came along.
"I've talked to a lot of people; my career as an academic is something I take very seriously. But my colleagues remind me I only live once and it is only one year. Looking back I certainly won't be wishing I didn't take that year out.
"Right now though it feels scary and when I thought about packing up my office I got panicked about handing over my tasks to a substitute. It took me a long time to reach the decision and it's only now that I'm saying I'm doing it. Before it was always; maybe I will, perhaps I will. Now it's real."
OVERCOMING INJURY
And an injury-ridden season in 2010 did little to put Bigham's mind at ease, despite recording career-best results - including another British Championships, eighth at the World Championships and ranked second in the World - all achieved between long periods of off-the-bike rehab on a recurring knee injury.
In fact, it wasn't until the end of the season - a time at which most riders reach their mental limit - that Bigham was close to regaining form, culminating with a win at Roc d'Azur. A victory in the prestigious and traditional end of season race did little to settle nerves though, with reservations remaining stronger than ever.
"The injury in 2010 made it harder to decide whether I go full-time. I thought if I take a year off and get injured again to a point where I can't ride, then I'll end up with no job and no riding either. It is still something that plays on my mind.
"I remember the problem started when I was training for the Cape Epic. I spoke to a few doctors and they said not to ride prior to the race for two weeks, but in the race it was still not right so I skipped all races in April and May. I could only start training again in June; fitness-wise it was only in the end of July that I started to get better form again, later still in September that I feel I had a good level of fitness - even at the Worlds I would say it was not so good."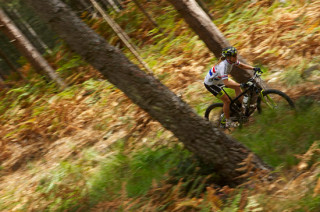 But despite a lack of form, Bigham seems happiest when talking about the 2010 World Championships - history books record an eighth-place finish - but a race where Bigham believes the black and white printout was an injustice.
"Although I had a lot of problems at the Worlds, I was only a couple of minutes behind fourth; in my head I know that's where I should have been on the day."
That's because a mechanical problem on the start line left Bigham dead last and in chase mode - something which she paid for later in the race.
"I had to go so hard to get back to the leaders, I spent a long time trying to recover after that effort and I later cramped. When it came to the attacks, I couldn't respond. It was just some bad luck, but to still be at that time margin I feel I can still take a lot of confidence from that.
"I was obviously disappointed with the race, since I know a top five result was there for me on that day, but it's why I am so pleased with that ride, because although I only finished eighth I know I should have been in the top five. And to feel so confident about that makes me feel positive."
To record a virtual top five placing while working full time, not in top form, recovering from an injury and chasing from dead last leads to an obvious question - but the only one for which Bigham has no response.
Leaning back into the corner, it's obvious holding an ambition to become World Champion is an uncomfortable one.
"I'm very superstitious and I don't want to talk numbers. A target would be top five this year. But winning the Worlds? Give me another four or five years to see if I can get good enough. Today I wouldn't say winning the World Championships is a potential. Even to think something like that is...I don't know."
The idea of staying with the leaders later into the race receives a more optimistic response.
"I want to see if that's possible" Bigham muses, before returning to the corner of the room.
FIRST TIME, FULL TIME
With a first winter of full-time training under the wheels already and following battles with a harsh British winter, a move to Gran Canaria and Lanzarote for some warm weather training has paid dividends; two podium performances already in the bank.
With training accounted for, Bigham hopes to reside in the Dolomites through the season - an Italian mountain range she cites as her favourite environment for mountain biking.
Relocating to Italy will come following the Cape Epic, setting up a season focussed on the European and World Championships, with some stage races thrown in for good measure. And although Bigham dabbled in cross country in 2010, there will be no furthering of her commitments to short course racing - preferring to focus on the area of mountain biking that still fascinates.
"This year is not really about becoming the best in terms of strength and fitness, it's more about playing on my bike because if I want to improve I need to be training where I race - in the mountains. I'm really excited about that, because last winter was all about early mornings, training on the road and going to work. This year I can go mountain biking every day. Then the plan is to go back to work and I imagine my best results won't come for a while after that."
Whether that last sentence remains true or otherwise will surely depend on the forthcoming race season. After all, it's not unusual for the best students to extend their year out and live the dream a little while longer.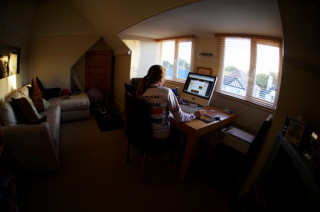 And if you want to keep up with the continuation of Sally's story then be sure to visit her exclusive British Cycling Online Rider Diary.
Links:
Sally Bigham Blog
Topeak Ergon Team Website
Ergon Team Website
Topeak Ergon Team Facebook