Report: Pro Sprint Eliminator
PRO SPRINT ELIMINATOR RESULTS - PDF DOWNLOAD
Men - Qualification | Knockout Stages
Women - Qualification | Knockout Stages
Crowds stormed Pickering on the opening evening of the Dalby World Cup to witness the inaugural running of the Pro Sprint Eliminator - essentially fourcross on cross country bikes. On a night when the spectacle was taken to the people, Thomas Litscher and Eva Lechner escaped £1000 richer, while the local crowds discovered what the words 'mountain bike' really meant.
As curtain raisers go, Dalby's opening gambit was one nobody wanted to miss. An hour of frenetic racing later and everyone will remember Dalby's Pro Sprint Eliminator as an event to change the impression of cross country racing and introduce a whole new audience to mountain biking's only Olympic discipline, where the Worlds top riders were excited to try a new type of racing, the locals were excited to see what the fuss about mountain biking was and the superfans got the chance to see heroes past and present race to please a crowd hugging the Pickering streets.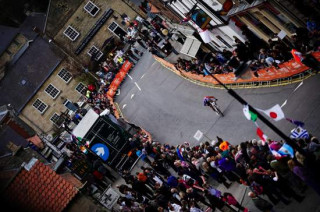 Every vantage point was taken on a course which ran directly through the high-street, through a residents back garden and down a flight of stairs. Top floors of local houses, pubs and even the Conservative Club (other political parties are available) were sold out, as England's biggest cross country race in over a decade came to town.
Masterminded by Simon Burney, Leyanne Jenkins and a crack squad at British Cycling - including an endless list of willing volunteers, Pickering town centre was transformed within hours from a quiet collection of stores and backstreets, into a World-class race venue; very different to what the riders will face on Sunday at Dalby Forest, but entirely worthy of opening the 2010 UCI Mountain Bike World Cup Series.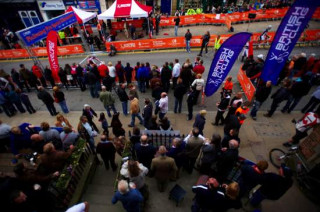 THE RACING
After an hour of course reconnaissance, riders were set off individually on a seeding time-trial which would reduce numbers to 32 qualifiers - the slowest being eliminated instantly. These early rides were enough to give spectators the chance to assess the best areas to watch, before head-to-head racing began on the streets.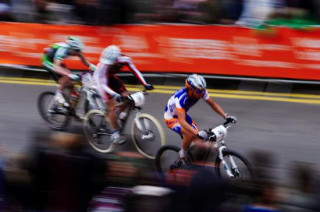 Among those taking part were the best professional bike riders, including Ralph Naf, Jose Hermida, Georgia Gould and Katerina Nash - and some all-time-greats like Gary Foord, Nick Craig, Bart Brentjens and Thomas Frishknecht. All were out to support an event showcasing Sunday's race to an audience which may have let the World Cup pass them by.
And thanks to a series of close races and inspirational commentary from an appropriately-dressed Dan Jarvis and Chris Furber, everyone was convinced. Early rounds featured young British Development riders Steve James and Kenta Gallagher - who impressed by opening the account by beating Ralph Naf, while the timeless Nick Craig also put in a crowd-pleasing performance.
Eventually, a final featuring Thomas Litscher, Naf, Hermida and Fumic emerged, with Litscher taking the win, despite Merida riders holding strength in numbers. Meanwhile, Eva Lechner overcame Nathalie Schneitter and Katerina Nash to win the women's event.
We'll have a full report, including rider reaction soon.