Follow britishcycling.org.uk on
Preview: British XC Series Round 1
2010 British XC Series Home | Official Website | Online Entry | Rider Entry Lists
Words: Luke Webber Photography: Luke Webber and Joolze Dymond Video: Eldrik Hartley
The stars are coming out for Britain's XC curtain raiser for 2010! Olympian's Oli Beckingsale and Liam Killeen are on the start sheet for the Elite men, while Elite women Annie Last and Sue Clarke will face international competition from Rosara Joseph and Kate Potter. We visit Sherwood Pines to ride the lap with course designer James Hampshire. Hit the jump for every detail you need, runners and riders and insight into the top riders' preparations.
2009 Race Video

Sherwood Pines; fast, flat out, wheel-to-wheel racing, or a destruction of the true mountain bike course - the season opener is always divisive between racers, but the facts don't lie. A sellout race in 2009, sprint finishes for two years on the bounce and results which have upset favourites are just three reasons why you won't want to miss the opening race of the 2010 British Cross Country Series.
Raising the curtain almost a full month earlier than in previous campaigns has produced an air of uncertainty for 2010 and with no major regional events in the run-up for riders to test their form, most are hitting the blocks blind. Occupying six calendar months, the British Series spreads itself widely in 2010, meaning riders will have to compromise periods of form and results if they're to lift the title of British Series Champion in September.
Alongside British Cycling, organiser Martyn Salt has conspired with the worlds biggest mountain bike manufacturers to produce a sellout arena and the UK's most prolific demo series - with Trek, Specialized, Yeti, Giant, Santa Cruz, Gary Fisher, Merida, Accelerade, Genesis and Osprey - running testrides and providing prizes for a true weekend of racing, incorporating practice and team relays on day one, preceding the race proper on day two.
RIDER PROFILE
Classically a power course, the Sherwood race turns further to the favour of bigger riders the drier the soil gets. Sections of exposed firetrack where drafting can be advantageous, average speeds well into the teens and constant small accelerations above threshold through tree-lined singletrack define the Pines. In most cases the course is resilient to rain with a racing line clearing quickly, however in the worst conditions possible (morning rain, followed by a windy afternoon) the mud will become sticky, turning the course away from the favour of the sprinters and toward the lighter competitors.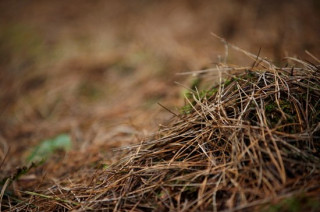 This is why they call it The Pines. Needles across the trail in autumn/spring slows progress.
RIDERS TO WATCH
The biggest news is the strength in depth of both Elite races, the UCI-status attracting international competition among the best of British.
The list of favourites in the men's Elite race, scheduled for 12:30pm on Sunday is long and illustrious. Liam Killeen, British XC Champion, Commonwealth Games Gold Medallist and twice and Olympian heads the list, followed by Commonwealth Games Silver Medallist, British XC Series Champion and three-time Olympian Oli Beckingsale.
Next comes winner at Sherwood in 2009 and 2006 British XC Champion, Jody Crawforth - a rider whose style suits the flat, fast racing the Pines delivers. Alongside Crawforth is rising under-23 rider Dave Fletcher. Part of British Cycling's Olympic Academy, this will be his first race-test of 2010.
Representing the Welsh contingent is Lee Williams. Bronze at the British XC Championships in 2009 signalled his arrival at the top of domestic affairs and after another winter of full-time training, he will be hoping to make a lasting impression on 2010.
Further riders to watch will include Ireland's Robin Seymour, Scotland's Gareth Montgomerie and England's Adrian Lansley, with the internationals led by Stijn Van Boxstael, Jorgen Flion, Henrik Kippernes, Ola Kjoren and Andrew Blair.
And the Elite women's field is no less intimidating with two riders from the Southern Hemisphere the top favourites for the race. Winner in 2009, New Zealander Rosara Joseph is back again in 2010 and will go up against Australia's Kate Potter who finished 24th at the World Championships last September.
Britain's top contenders include British Academy rider Annie Last, who starts her second year of Elite racing in 2010. After a season including top-40 results in the World Cup and fifth as an under-23 at the World Championships, her progression in the coming season is greatly anticipated by racing fans.
British XC Champion Sue Clarke is also a rider to watch, having made a full return to international competition in 2009 and prepared for the 2010 season by racing in Cyprus' Sunshine Cup.
EARLY SEASON PREPARATIONS
Such has been the lack of early season test events, both Lee Williams (third in the 2009 Series) and British XC Champion Sue Clarke, have already been honing form at the Sunshine Cup in Cyprus, while Annie Last (U23-British XC Champion), Lily Matthews, Jody Crawforth (winner at Sherwood in 2009) and Paul Oldham come from the back of a successful cyclocross season.

Left: Jody Crawforth - 2009 winner | Right: Kate Potter, Rosara Joseph and Annie Last - the women's favourites
For reigning British XC Series Champion Oli Beckingsale there can be no gauge of form. Having not taken to a start line since the final round of the UCI Mountain Bike World Cup in 2009 it is only known that the flatter courses are not to his liking, having been thwarted by Crawforth in 2009 and Ian Wilkinson in 2008.
Another rider with an incomplete racing record is David Fletcher. With no history beyond September 2009 and on a local course he could be the surprise package.

COURSE RIDE
Vital Statistics
Course Length: 5 miles 8km
Climbing Per Lap: 150 metres
Estimated Elite Lap Time: 18 minutes (dry)
Estimated Race Duration: 7 laps Elite Men, 6 laps Elite Women
Feed/Technical Assistance Zones: 2
Singetrack: 65%
Firetrack: 35%
2009 Winners:
Elite Men - Jody Crawforth (Arctic Premier)
Elite Women - Rosara Joseph (Giant)
Result History: 2007 | 2008 | 2009
A gridding and good start at Sherwood is essential on a course which encourages pack racing, sprint finishes and singletrack bottlenecks. This year the opening straight replicates 2009; cutting over a bumpy grass field before narrowing for 25 metres to cut onto an uphill fireroad.
After 0.5 miles the course turns hard right into the opening singletrack, where anyone outside the top five will be at a massive disadvantage. Gaps created by traffic jams here will be near impossible to bridge as the race progresses and any time gained in the first five minutes can be seen as a free gift. Likewise, as groups begin to form in the early stages it is important to choose the right one. Fighting to stay with the leaders, only to get shelled out at two-thirds distance and slipping through several echelons is a familiar sight at the Pines, where reputations have no respect.
One place where showing respect will gain you friends however, is when racing in the pack; here rules from the road populate the mountain bike fraternity. Attacking through a feed, or when everyone else is takes a break to drink is seen as bad form; weaving in the bunch to force mistakes during singletrack even more so. It's not uncommon to hear of riders becoming marked men for their poor sportsmanship in previous years, especially when you're riding at 25mph on a wheel which could hide a tree stump or similar nasty.
THE LOG OF DEATH!
The remainder of the 8km lap (which should take a top Elite around 17 minutes and a Sport rider 22 minutes) returns to the arena twice. The first return comes after riders have completed the easy half of the lap, mainly comprising of fireroad and doubletrack. The nature of the course then changes to include more singletrack and short, repeated climbs.
On our visit (March 6), the conditions were good to fast on the opening loop, with significant soft terrain covered in speed-sapping pine needles on the second loop. Observing the local weather is going to be critical this year, with further rain condemning the course to being a slow-goer. However, strong winds will massively help any chance of a springtime dustbowl at the Pines.
BIKE CHOICE
Because of such close-proximity racing, repeated small bumps which hamper smooth pedalling and the ability to mentally switch off momentarily, a short travel full suspension bike is the connoisseur's choice at Sherwood. While the big gear smashers love to take a hardtail for finishing sprints, they do serve to beat up your body over a tiring two hours of competition.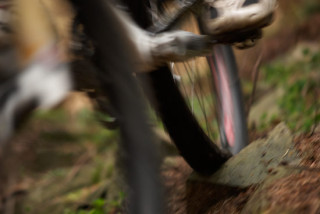 With a sandy soil, skilled riders will often choose the same tyres in both wet and dry conditions. The primary concern will be pressures - the looser the soil, the lower the pressure to deal with unpredictable drifts between singletrack and fireroad.
A final consideration is gearing. Expect those who choose to run a 32T single ring to be at a disadvantage here. Keeping it in the 44T for the duration is realistic for most riders and will help keep a good chain tension for those bumpy sections.
RACE COVERAGE
British Cycling will be at Sherwood covering all the action, both racing and reporting in on the weekend. We'll have weather reports in the run-up to the event, insight into what kit the top riders chose and information on how you can get involved at the British XC Series.
If you don't want to enter, but fancy watching Britain's best XC racers in action before the World Cup at Dalby, then get yourself along to watch, or demo one of the bikes from the exhibiting manufacturers. It won't cost you a penny - all we ask is that you give your favourite riders some encouragement to pedal a bit harder...or even come and try racing at Round 2!
---
OFFICIAL INFORMATION
Schedule:
Saturday March 27
1000 Demo Track Open
1100 Registration Opens
1200-1700 XC Race Practice Open
1500 Last demo rides begin
1600 Demo track closed
1700-1800 Team Relay XC Race Day

Sunday March 28
0900 XC Practice
1000 Demo Course Open
1000 Race 1: All Female categories and Juvenile/Youth Boys
1200 Practice
1230 Race 2: Elite/Expert/Sport/Junior Men
1500 Race 3: Master/Veteran/Grand Veteran/Super Veteran Men/Open
1500 Last demo rides begin
1600 Demo course closed.
Registration closes 30 minutes before each race.
Facilities:
Don't forget that this year we have added 8 of the UK's finest bike brands who will be offering free demo bikes all weekend (bring two forms of ID) Trek, Specialized, Giant, Genesis, Gary Fisher, Santa Cruz, Merida and Yeti. There will be camping on site for Friday and Saturday evening and this is free to riders and their party - no campfires please. The venue has a cafe, bike shop www.sherwoodpinescycles.co.uk, permanent toilet block, water, kids playground and one of the excellent Go Ape High ropes courses www.goape.co.uk. In addition Swinnertons Cycles will be on site as our retail partner and event caterers Quaver Catering will be supporting the whole series. There are shops nearby in Edwinstowe and Clipstone with a large shopping centre a few miles away in Mansfield. Please remember main gates will be locked from 10pm each night for security.

Exhibitors:
Swinnerton's will have their well stocked shop, Quaver Catering will be keeping you fed with a varied menu. Exhibitors for the arena include Specialized, Giant, Trek, Yeti, Santa Cruz, Accelerade, Merida, Genesis, Gary Fisher, Osprey Backpacks, Orange Monkey, A Quick Release, Torq, Weldtite, XCracer.com, Mini Adventure, Shred Magazine...with more to be confirmed.

Getting there by train:
Mansfield is the most useful station, at around 4.38 miles away in a straight line, but Mansfield Woodhouse is also feasible. From Mansfield, go north east on the B6033 and look for the B6030. Once on the B6030 (Mansfield Road), head north east of Mansfield, signed Forest Town or New Clipstone. Go past the shut-down colliery on the right in New Clipstone/Clipstone Village, over a series of roundabouts. After a descent down to the railway, and a shallow road climb, Sherwood Pines is on your right.

Getting there by car:
Postcode: NG21 9JL
Follow these directions as supplied by Sherwood Pines Cycles there will be event signage as you draw nearer.

Where to stay:
Free camping is on site. If it's B&B you're after then the nearest are in Edwinstowe which has a few pubs and restaurants too. The nearest hotels will be in Mansfield and after that Nottingham.

Please remember for security the main event gates are locked at night and you will not be able to leave/enter the site after 2000 or before 0630.