---
British Cycling's new mountain bike Olympic Development Programme coach Simon Watts has assessed that the establishment of the junior squad will take at least a full Olympic cycle.
Watts' conclusion has been reached following his appointment in February, the selection of the current ODP squad in March, two training camps and in May the opening round of the world cup – after which he delivered some home truths.
Between 2007 and 2012 Watts' superior - British Cycling's Olympic Mountain Bike coach Phil Dixon - implemented a performance pathway which replicated the proven road and track model, but to establish the parameters of what a successful mountain bike athlete will look like at each decisive moment of that pathway is an altogether different prospect to inherit.
And Watts is under no illusion of that fact as he describes three of Britain's most successful mountain bike athletes of the current era.
"Annie Last, Kenta Gallagher and Grant Ferguson" Watts details, "all three had different strengths, they all looked different and Phil had the challenge of adding the right ingredients to create the product and that was difficult.
"That process was instead of having the blueprint of what an ODP athlete looks like, then what an ODP athlete ready to make the move onto the Olympic Academy looks like.
"We're still in that place in many ways – we have eight ODP athletes, all very different. Annie, Kenta, Grant – although they have won and featured in world cup competition I don't think we have enough consistency and enough riders in at the bottom of the pyramid to recognise a pattern of what a talented mountain bike athlete looks like in this country.
"That does not mean we're not looking to these athletes to be the finished article. We're not looking for Annie Last; they need to be in the right place to move onto the Academy. My goal is not to produce world champions, but to produce well rounded, self sufficient, educated, knowledgeable, technically excellent bike riders that then will move onto Academy and take the next steps forward on that programme under Phil and be that finished article at that time."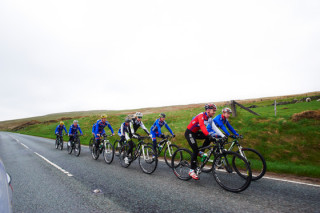 To create such a structure will take at least an Olympic cycle and, Watts says, will rely on great work by club volunteers, talent and development coaches and those organising grass roots events.
"But I think with time, more education and support at club level, with support from Talent Team coaches, we'll be able to develop much more of a package so there's more knowledge of what a rider should look like before ODP. And if I do my job correctly, by working with not only the athletes but all these coaches who in turn work with clubs, then we will have the bigger base to the pyramid. Then we can know what every level will look like, making for a much more efficient Programme and a much healthier situation."
This all-encompassing review came at the end of an ODP training camp in the Peak District where, for five days athletes were trained and educated, before decamping to race at the British Cross Country Series and since readying for their second world cup of the season in Italy.
Competing against fields of such high quality and depth, on courses of such physical and technical demand highlights any shortcomings – something which was immediately apparent to Watts at the first round of the world cup last month.
Some of these issues were addressed at the camp – but others fall into a much wider-ranging remit beyond the immediate control of either coach or athlete. The nature of mountain biking and racing in the UK is part of this scrutiny.
"We don't tend to do courses or training steep up and down" Watts observes with confidence.
"People think we do stuff steep and then they – the athletes – realise we don't and at that stage it's too late. What's more; the top guys make it look easy."
"In course practice," Watts lines up an immediate example, from the first round of the world cup in Albstadt, "our athletes were getting tired, they had heart rates in zone five. Over two days that takes it out of you, so we need to get them used to using small gears and riding this terrain."
If the assessment so far seems harsh, rather than exciting and ambitious, it is perhaps focussing to consider the unseen experiences the ODP athletes gained from an otherwise uninspiring read of the results sheet.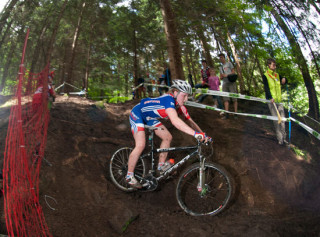 Annie Last, racing the 2008 junior world championships for the ODP
Exposed to the likes of world cup winner, Olympian and now professional athlete Annie Last, watching the activities of Kenta Gallagher, Grant Ferguson and Beth Crumpton – all of which set the bar for acceptance to the Olympic Academy; this experience is described by Watts as golden, vital time.
Exposing junior athletes to the next tier of the programme is nothing new of course – Dixon pioneered and detailed its importance during 2010 and 2011, Ferguson mentored by Gallagher, who in turn followed the example of Last.
Crumpton is the latest Academy athlete in the list as she attends the ODP camp. Today setting the example, nine months previous she earned the right to attend the world championships and associated camp, to train alongside Annie Last and receive the coaching input of Dixon.
"She took huge steps forward both physically and in belief" Watts recalls.
"It's having that time with Annie, Kenta and Grant which gave her the belief of top ten, top five and it's no different for these youngsters.
"And now you have ODP athletes working and racing very hard, competing to be in that position in a few months time, to gain worlds selection. That will be really tight, there might be only one or two taken. But if they get selection it's not just a race. They get on the team camp before the race, they are living as an Academy athlete alongside Podium Programme athletes, world cup winners and from that they have the opportunity to learn and ultimately try and step up in that position."
The next opportunity to prove those very attributes comes at round three of the UCI Mountain Bike World Cup, on June 15.