Phil Dixon: "The bar goes up in what we want to achieve"
---
As the four year journey to Rio 2016 begins, British Cycling's Olympic Mountain Bike Coach Phil Dixon has reviewed the achievements since 2008 and reveals his ambitions for the next Olympic cycle.
The first four years of Dixon's tenure saw the creation of a Performance Programme in line with other Olympic disciplines, development and realisation of the first British woman at the Olympic Games since Sydney 2000. But with even greater reform needed to deliver medal winning performances in 2016 and 2020, resource, investment and patience are essential.
According to Dixon, that's because compared to 2008 the balance of the Programme itself has changed – today the women's division is stronger than the men's – with development athlete Annie Last providing Britain's only senior World Cup cross country podium since Liam Killeen in 2006.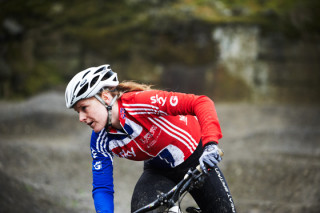 Annie Last - the first development athlete of Dixon's tenure to achieve podium success
With Killeen in rehabilitation after crashing out of London 2012 and no longer part of British Cycling's Olympic Podium Programme and fellow three-time Olympian Oli Beckingsale focussing on domestic competition in the twilight of his career, Dixon must prepare a rookie squad for Rio 2016 – an eventuality which has been prepared for since 2007, but now requires urgent attention.
Despite such a huge task, Dixon takes solace in a period of measured progression and a proven result in Annie Last.
"It's interesting to sit here now with the women's programme is stronger than the men's which has not been the case for over 12 years. You've got a young girl in Annie Last who has come through our systems, delivered a great performance at the Olympic Games, won two world championship medals along the way and was ranked number one under-23 in the world. I think it shows with hard work and the right support what you can achieve."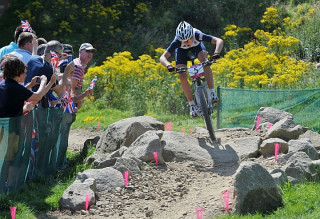 Last at the London 2012 Olympic Games mountain bike race, where she finished eighth
Such hard work and rapid development will be essential with an Academy and Podium Programme with an average age of 20; compare this to the average age of competitors at the London Olympic mountain bike race at 29 and it is clear the task of developing Britain's first men's mountain bike medallist could take until 2020.
"The men's programme is almost where the women's was four years ago. The youngsters have opportunity to step up in Rio, if they put the work in I think you'll see points scorers coming from the youngsters and if we can make their progression right over the next few years then they can go to the Games and secure one of the best rides we've ever had.
"But over the next four years people have to remember this is a young squad. It's not all about results; it's about picking up an athlete with the right tools and then helping them to develop and then deliver at the top end. Our business is Olympic-based and not completely results driven at development age."

Grant Ferguson - one of British Cycling's Olympic Academy athletes who must make the transition from under-23 to elite competition in the next four years.
DEVELOPMENT
The focus on development started in 2006 when Dixon was at the start of his coaching career.
"I was working part-time when Annie Last joined the Olympic Development Programme and Dave Fletcher delivered a bronze medal at the 2007 junior world championships."
And Dixon's emphasis on development athletes has remained a cornerstone of his coaching principals.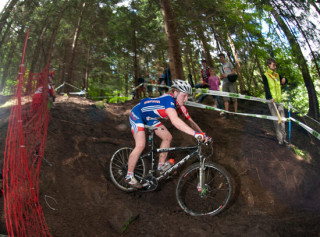 Annie Last at the 2008 junior world championships where she finished ninth
"One of the pleasing things for me is to see youngsters who have no idea of what they can achieve at that level to then go on and start to be British Champions and world medallists, to see them go from being teenagers to adults and to help them along the way.
"Since 2008 we've done that by exposing junior athletes to the courses they would have to perform on as seniors, there has been an investment in skills work and I think that has paid off, there's less crashing, there's less injury and the guys look some of the best in the world technically on the bikes.
"The system in place now works – it is developing some really young talent in Grant Ferguson, Kenta Gallagher and Beth Crumpton. I'm a big believer in success breeds success and I think Annie has inspired a lot of the youngsters there. Going forward I think the mountain bike programme is becoming a defined pathway which will help the athletes."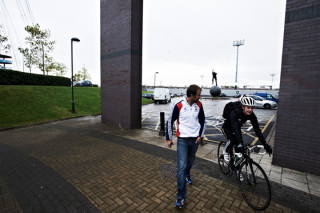 Beth Crumpton joined the Olympic Academy in November 2012, moving in to the flat Annie Last vacated
With that pathway established Dixon has clear ambitions in the coming four years; world cup and championship medals, more athletes on the Programme, a strong junior squad, a full quota to qualify Olympic places and not having one athlete trying to do it alone.
"The sport has moved on; we need to move on with the sport," Dixon summarises.
"I think the programme and the process evolves and the bar goes up in what we want to achieve and what we can achieve.
"There's a chance now to look at what areas we can address for the next Olympics and be quite smart about things. That takes time to put together and implement. We absolutely need a focus on development short-term to make sure we have a long term plan in place for the youngsters for 2020. The 2016 Games; that team will come from within the Programme as of today. But going forward, it is always good to have pressure from below and those same athletes for the future."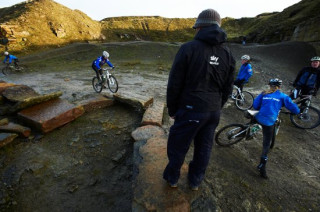 Resource for developing youngsters through British Cycling's Talent Team and Olympic Development Programme is essential to delivering suitable candidates to the Olympic Academy.
Between now and 2016 the dress rehearsal for Rio will happen in Glasgow at the 2014 Commonwealth Games, with the intention of filling three men's and women's places for England, providing athletes major event experience.
Realising that target will require hard work, continual development and little deviation from a plan which received its first airing following the 2008 junior world championships in Val di Sole, where a 17-year-old Annie Last finished ninth. Four years later she qualified for and finished eighth at the Olympic Games. The challenge now is to mirror that process with a new group of development athletes in time for August 2016 and British Cycling will be following the journey.