Road To 2016: Day one on British Cycling's Mountain Bike Olympic Academy Programme
Road To 2016 | British Cycling's Performance Programmes Explained | Join The Team
---
Following 2012/13 selections for British Cycling's Olympic Performance Programmes, Bethany Crumpton was announced as the newest addition to the mountain bike Olympic Academy – joining Kenta Gallagher and Grant Ferguson – and replacing Annie Last.

Crumpton is met by Phil Dixon as her time with the Olympic Academy begins

In the simplest terms, Crumpton's induction is a straight swap for Last, who leaves the Academy flat Crumpton inherits and continues her professional career as part of British Cycling's Olympic Podium Programme.
And the similarities continue, albeit with four years of separation.
Both athletes were part of British Cycling's Talent Team and both experienced an Olympic Development Programme overseen by British Cycling's Olympic Mountain Bike coach, Phil Dixon. In 2008, Last finished ninth at the junior world championships and four years later Crumpton finished fifth.
That result came after Crumpton spent the preceding weeks training and racing with the first British woman to qualify for and compete in the Olympic mountain bike race since Sydney 2000 – an experience Crumpton credits her result to at least in part.
"Annie's a really great role model" Crumpton enthused, when describing her experience of the summer.
"It was great to be invited to join the squad for the pre-world championship training camp and it gave me far more than a good workout on the bike. Being in the house with the team, I learned about the structure to their day, what you gained from having that planned and I think it had a great deal of influence on my result.
"When I came out of the camp I continued with the structure I had from the camp, like stretching, getting that afternoon nap in, eating at the same times everyday, snacking and making sure I was never hungry – that was something I heard Annie say and I took it on board."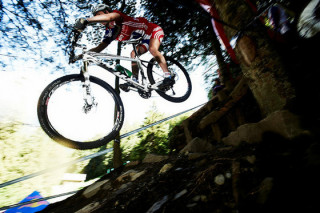 Crumpton in action at the 2011 mountain bike world championships as a first year junior
When asked whether the following result – four positions higher than Last's 2008 performance – may have led to immediate thoughts of what would await Crumpton come 2016, she insisted while fifth place was beyond her ambition for a top ten, her thoughts didn't immediately turn to Rio.
"I suppose it is a shock when you hear four years ago Annie was ninth at the junior worlds and four years later she was eighth in the Olympic Games, that's a massive jump. I suppose it's exciting what could happen in four years time but I'll take it step by step. But it's really exciting knowing mountain biking an Olympic sport and it gives you that extra boost knowing you could be an Olympian one day. If I go through the whole process, learn, listen, do everything properly then I'll be the best I can be."
However, it was only after the world championships that Crumpton could complete an application to an Olympic Academy Programme for which – in her own words – places were minimal and the chances of success were a long shot.
Anticipation was increased as Crumpton didn't know when the confirmation of a successful – or otherwise – application would come, but could clearly remember the morning she woke to a call from Phil Dixon.
"The last thing I remember about applying was hitting the send button on the email and having a bit of a panic over whether British Cycling actually got the application.
"When I got the call I think I was in bed, I was home alone so it felt a bit weird – but I was really chuffed, all that hard work had paid off and I could really start to crack on with my future. I called my parents and my mum cried at the end of the phone, she knew I'd be leaving home."
Crumpton describes the move to a now established residential Programme as a positive shock to reality and will room alongside second year BMX Olympic Academy athlete Abbie Taylor.
"I'm really excited about having my own independence, living in my own flat. Compared to home, I'm starting to realise about looking after myself. Four years is a long time but right now, I'm looking forward to learning, getting into a routine, meeting the people I'll be seeing a lot, so I can use the big team of support staff. It's comforting to know that if I'm ever in trouble there's always help there."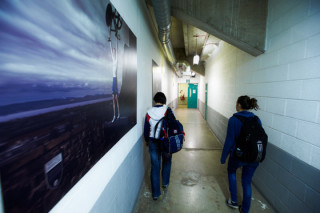 Beth Crumpton (right) is given a behind the scenes tour of the National Cycling Centre
Having already started that process by completing day one of life as part of the Olympic Academy with a tour of the National Cycling Centre, Crumpton enjoys a rare early finish. Once back to the Academy flats, her first challenge will be to make dinner and prepare for the days of training ahead – something which will become normality as she adapts to the role of a full-time athlete.
British Cycling's Road To 2016 will continue to follow Beth and the mountain bike Olympic Performance Programme in training and competition.