|
---
The Women's and Men's Olympic Mountain Bike events take place on 11 and 12 August respectively, held at the purpose built course at Hadleigh, Essex.
Representing Great Britain will be 21 year old Annie Last, riding in her first Olympics and Liam Killeen, who at 30 will be contesting his third Games.
The Team
Liam Killeen will be the sole representative for Great Britain in the men's mountain bike race and will roll up to the start line at Hadleigh having been through the Olympic experience on two previous occasions.
At the Athens Games in 2004, the Malvern based rider, then just 22 years old, finished an impressive fifth, in the year that Frenchman Julien Absalon claimed the first of his two Olympic gold medals. Killeen's Olympic debut came two years after he won bronze in the Manchester Commonwealth Games, a result which first brought him to to the attention of the wider sporting public.
Killeen went on to win gold in the 2006 Commonwealth Games before chronic fatigue syndrome laid waste to his 2007 season. He returned to form in 2008, finishing seventh in the Beijing Olympics, after an early crash ruined what might have been a charge to a medal. That race was dominated by the French pairing of Absalon and Jean-Christophe Péraud, with the former winning his second title. That year also saw the first of Killeen's quintet of national championship wins, the latest coming just a few weeks before the London Olympics.
Killeen's 2012 World Cup campaign has seen him off the pace of his Olympic podium rivals; 19th in Nove Mesto na Morave in the Czech Republic his highest 2012 World Cup finish and he missed the final round in Val d'Isere in July due to illness. However, as his Olympic palmares suggests, is a rider that can always rise to the big occasion and it is his experience at the Games he will rely upon, as coach Phil Dixon explained in a recent interview.
"It's his third Olympic Games, he has got a massive amount of experience and he has got a lot of quality. He was disappointed with how the US and Canadian world cups went for him. It didn't quite go as he would like, he wanted a little bit more," Dixon said.
"He came away with a 37th and a 20th, in terms of result they don't show a lot of progression but he actually got two really good workouts there. He has two Olympic Games under his belt and it doesn't matter what riders have done in the last six months. On the day of the Olympic Games it is which riders make the least mistakes, which rider handles the pressure best, who has prepared the most - it's a unique event and he is confident going into these Games.
"He is in a good place, the results he has shown this season wouldn't show him medal competitive at this point but I do believe he is in a good place and the experience will tell with him.
"As a 22-year-old at the Olympic Games he was fifth, in the last one he was seventh with that incident at the start and he was fourth in the elite men's world championships in 2008. He's got class in there and he needs to find it in the next few weeks and hopefully show the nation."
Annie Last is Great Britain's representative in the women's event – the 21 year old from Bakewell is a year younger than Killeen was when he had his first taste of Olympic competition in Athens.
Last's rise has been rapid since she joined the Great Britain Olympic Academy Programme in 2009 as a 2016 Rio prospect. She was soon being fast tracked onto the Olympic Podium Programme (reserved for the programme's top, medal-winning riders) though technically she is still in the Olympic Academy age bracket. Last's performances against Elite Women during the 2012 World Cup events and her performance in the 2011 World Championships make Britain's best Cross-Country mountain biker since Caroline Alexander. Last will become the first woman to represent her country in mountain biking at the Olympic Games since 2000.
In the World Championships at Champery in 2011, Last claimed a silver medal in the Under 23 category behind Bresset of France, in the same year as she wowed British crowds at the World Cup round in Dalby Forest, claiming a career best 14th place in the Elite Women's category. Fast forward to the opening round of the 2012 UCI World Cup and Annie scored her first World Cup top ten, with ninth place in Pietermaritzburg in South Africa, a race which Last led for a time.
More top ten finishes followed through the 2012 World Cup season, culminating in a third place at the final round in Val d'Isere just a fortnight before the London 2012 race. Last finished behind 2011 Under 23 World Champion Julie Bresset of France and evergreen cross-country legend Gunn Rite Dahle Flesja of Norway.
Last's form and her rise to Olympic podium potential is perhaps best summed up by head coach Phil Dixon, who was full of praise for Annie in a recent interview:
"We haven't qualified a female place in 12 years, the qualification process that Annie went through was horrendous really, and it was basically four years of her life that she will probably never have to repeat." said Dixon.
"She was still a development rider and had the pressure of qualifying an Olympic place which she dealt with really well and along the way she got two world championship medals, second place for the last two years as an under 23 bike rider, I think she has shown great character and she is really excited for the Games and is looking forward to getting out there."
The Course
Located in the Essex countryside on land owned by the Salvation Army, Hadleigh Farm is a 550-acre site that features beautiful grassland and woodland. It also includes the surrounding countryside of Hadleigh Castle Country Park.
Hadleigh Farm offers some fantastic terrain for mountain biking, with gradients measuring 70 metres from top to bottom.
Construction work began on the London 2012 Mountain Bike course in July 2010 and was completed on time and within budget in March 2011. In total, 500 tonnes of rock and 3,500 tonnes of crushed stone were used in its creation.
The five kilometre circuit is situated on open hillside – a new concept for Mountain Bike events, which are typically held in forested areas.
The course has been specially designed to provide a physical and technical challenge for the world's leading riders, with plenty of demanding climbs and descents. Specific features include Snake Hill, The Rock Garden and Deane's Drop.
But for all its technical challenges, the course's most remarkable quality is its open views and natural amphitheatres. Crowds and TV viewers alike will be able to follow the whole race without interruption.
Full course map (London 2012 website)
Phil Dixon on the London 2012 Olympic Mountain Bike Course

Olympic Mountain Bike coach Phil Dixon has prepared both Last and Killeen for the Hadleigh course, which, although lacking the elevation and height gain of many World Cup circuits, makes up for it in terms of technical challenge and an unrelenting profile.
"It is physically one of the toughest courses I have seen. There's no flat transition in it at all, it's continually up or down and the downs are technical - they're rock features so you can't afford to get them wrong or you are out of the running.
"It's got a mixture of A and B lines but the course is tremendously difficult but I think for an Olympic Games it is a great course from a spectator point of view. You can see a lot of the course from one spot and that bodes well for the sport I think. I do think the race will be quite close as well, I don't think it will split up too quickly.
"Because the course is open you can see a long way in front of you which is pretty rare for a mountain bike course so the 'out of sight, out of mind' scenario is not the case really, you always have something to chase and I think the race will closer and exciting."
The Opposition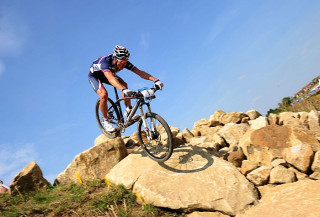 Men
In the men's event, the standout performer in the 2012 World Cup has been Swiss rider Nino Schurter, topping the 2012 World Cup standings. Schurter took bronze in Beijing, competing in his first Olympics at just 22 years of age, winning the U23 world title in the same year. The next year he would go on to win the elite men's world title before finish outside the medals in 2010. However, the Swiss rider has been peerless in 2012 and will be the man to beat.
2008 Olympic champion Julien Absalon of France is, like Killeen, competing in his third Games, unbeaten in both previous Olympic outings. In the same time period, Absalon has podiumed six times in seven years at the World Championships, winning four world titles in the process. Third in the World Cup Rankings this year, Absalon's engine, experience and technical prowess is legendary and the Frenchman will be keen to attempt to gain a hat-trick of Olympic golds in London.
2011 World Champion Jaroslav Kulhavy rounds out the potential podium opposition for Killeen – the Czech rider finishing third overall in the 2012 World Cup after taking the world title in 2011. Other riders capable of a podium finish on the right day are Burry Stander of South Africa, second in the 2012 World Cup and Marco Aurelio Fontana of Italy, who has come on strong in the final few World Cup rounds.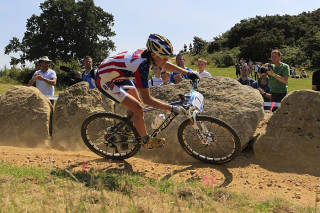 Women
2011 world champion Catherine Pendrel of Canada is on paper, the clear favourite, the 31 year old from New Brunswick winning five rounds of the 2012 XC World Cup and sealing the series win. Behind her in the world cup rankings is Norwegian superstar Gunn Rite Dahle Flesja, who won the final World Cup round in Val d'Isere convincingly.
Between Last and a potential Olympic medal stand a quartet of quality riders, Katerina Nash of the Czech Republic, Julie Bresset of France, the United States' Georgia Gould and Canadian Emily Batty. However, Last's final world cup display in Val d'Isere showed that the Derbyshire based protégé is peaking at exactly at the right time, beating all but Bresset and Dahle Flesja just two weeks out from her date with destiny in Hadleigh.
How to watch
The women's and men's mountain bike races will be broadcast live on the BBC on 11 and 12 August - http://www.bbc.co.uk/sport/olympics/2012/sports/cycling-mountain-bike