Road To 2012
Olympic mountain bike duo prepare for World Cup

Homepage: Road To 2012 | British Cycling's Performance Programs Explained
Team GB Mountain Bike Roster | Join Team GB
Mountain Biking: Olympic Qualification Explained | UCI National Rankings
---
Ten days after being selected to represent Team GB at the 2012 Olympics, British Cycling Olympic Programme athletes Annie Last and Liam Killeen will begin their final races before August 11-12.
After a demanding two year schedule of qualifying two nation places for the Games, the dedicated work toward a performance in London starts now for British Cycling's Olympic Mountain Bike Coach Phil Dixon.
After qualifying for the Games, a strategy of training and racing was decided upon, with Dixon believing racing the best in the world was the optimum way to prepare.
Last week that process started at the Swiss Cup with Liam Killeen finishing ninth in a men's field missing only world champion Jaroslav Kulhavy and Olympic champion Julien Absalon, while Annie Last finished sixth in the women's event.
The team – also including Olympic Podium Programme athlete Dave Fletcher and Olympic Academy Programme athlete Kenta Gallagher – then travelled for back-to-back world cup events in Canada and America, which begin this weekend and are the final international competition before the British Championships and ultimately the Olympic Games.
SEASON SO FAR
To date, Killeen's world cup season has been mixed and he has not broken the top twenty – a heavy crash at the opening round in South Africa hampering performance in Belgium and the Czech Republic. His best start of the season in France was the most encouraging moment to date, but was still not enough to realise Killeen's personal ambition of a return to the podium placings.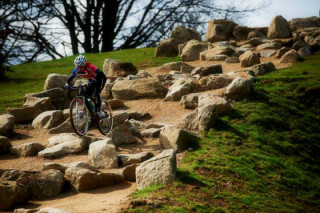 Annie Last began 2012 with a bang – leading the early stages of the South African world cup to finish in the top ten, before winning the first ever cross country eliminator event in Belgium. A further top ten ride in France confirmed there would be a first British woman in the Olympic mountain bike race since 2000, a milestone in itself.
With Olympic qualification secured and the team named, the final piece in a four year puzzle is ready to be placed on the road to 2012.
Watch the final rounds of the UCI Mountain Bike World Cup live on Red Bull TV.