Great Britain Cycling Team's Isla Short performed the best ride of her career to date earlier today, finishing in fifth place in the elite women's cross-country race at the UCI Mountain Bike World Championships in Austria.
Starting the race from 19th on the grid, Isla made her way into the top ten riders within the starting loop and from there she worked her way through the field, finishing lap two in fifth position, despite sliding off during the descent on lap one. Isla held on to fifth position for the rest of the race, crossing the finish line 3 minutes and 57 seconds after the winner of the race, Pauline Ferrand Prevot from France.
Speaking after the race, Isla said: "When you have a good race, you aren't even thinking, you're in autopilot and making the right decisions. I knew I was having a really good race so I didn't let myself think about it. I was really sensible on the climbs and I paced everything really well. I'm in shock!"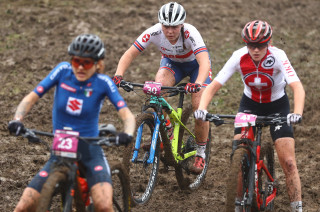 Evie Richards was also in action for the Great Britain Cycling Team, finishing in 13th place after a rapid start saw her finish the starting loop in second place, but the steep climbs saw Evie lose time throughout the race.
Pauline Ferrand Prevot defended her world title, while Italy's Eva Lechna narrowly beat Australia's Rebecca McConnell on the line to take second and third place respectively.
Earlier in the day, Great Britain's Hattie Harnden scored a top ten finish in the under-23 women's race, finishing in nineth overall and six minutes 54 minutes behind Loana Lecomte from France who won the race. Anna McGorum finished in 22nd place.
In the elite men's race, Frazer Clacherty was Great Britain's sole contender and he finished the race in 44th place. Jordan Sarrou, also from France, won the race with Switzerland's Mathias Flueckiger in second and fellow Frenchman Titouan Carod in third.