Joe Breeden and Becci Skelton take top honours in dire conditions at the final round of the HSBC UK National DH Series 2019.
The culmination of the closely fought National DH series saw the riders head north of the border to Ae Forest in Dumfries for what promised to be a tightly-fought finale to a thrilling season.
And in one final chapter of drama, riders were made to battle torrential rain, which almost put paid to the final runs of the day, but for a muddy conclusion to ensue against all the odds.
It was Breeden and Skelton who delivered in the men's and women's Elite standings, while Dan Slack took overall victory in the junior men, Phoebe Gale claiming the crown in the women's.
Breeden switches to overdrive
After a lacklustre seeding run where he finished down in fourth, a less-than-inspired Breeden gave himself a talking to before his final run, pulling out all the stops to shave four seconds off to take the win on the day, and with it the overall series.
Wilson Reece, flying on his seeding run and breaking the two-minute barrier, had to concede the narrowest of margins to Breeden after his final run came up just short, leaving him in second spot, just 0.185 seconds adrift of the summit.
"I wanted to win the overall and I knew I would have to do pretty damn well to achieve that so I'm pretty happy to have pulled it out on the final run," said Breeden afterwards.
"I wasn't really pushing it on the seeding run and finishing fourth really fired me up for the one last run of the season.
"Mentally I was just a different person. I think nearly five seconds difference in tougher conditions is a good result."
Skelton rounds off solid season with a win.
Skelton came out all guns blazing on her seeding run, thinking it might be her only chance of victory, as the inclement weather threatened to cancel the final run.
Pulling out all the stops, she took pole position, six seconds ahead of second-placed rider Abbie Sloan.
However, the sun came out in time for the final run, and it was game on.
And though Skelton was slightly more cautious, coming in five seconds slower than her first effort, it was enough to secure her first place and with it the overall title.
Sloan had a consistent run, narrowing the gap to Skelton, but had to settle for third in the end as Mikayla Parton just edged in front to take second.
"The weather has been insane," said Skelton.
"I've been here for two days and it's been glorious and then today it's been absolutely chucking it down.
"I spent all my pennies on my seeding run as I thought that might be our only run as there was threat of a thunder storm coming in and the race being cancelled. "Then I had another run and managed to do it again and grab the top spot."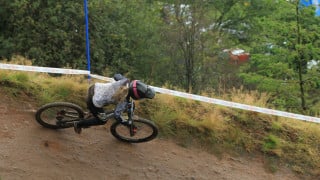 Dan's the man despite final round defeat
After his run of good luck at round four in Hopton, where he took the win and enough points to spark life into the junior competition, Dan Slack could only manage second on his seeding run behind his nearest rival for the overall title James Elliot.
The final run would be the clincher, with the title coming down to the wire.
A mistake in his last run of the series saw Slack come home in third, with Elliott less than a second ahead of him, however it was Shaun Sangster who upped his game shaving a good three seconds off his seeding time to take the final win of the series.
But the overall tally of points was ultimately enough to see Slack claim his maiden junior title in his first year of racing.
"I rode okay today, not my best, but enough to get the overall so I'm happy with that," said Slack.
"The track was really good, I was hoping it would rain as I like riding in the wet, it was proper fun just drifting everywhere."
Ding-dong battle in the junior women
Series rivals Phoebe Gale and Tea Jensen spent the day trading blows in the junior women's race.
The latter bagged pole position on the seeding run in tricky conditions, with a 10-second advantage ahead of second-placed Gale, while Rosy Monaghan came in for third close behind.
Come the final and it was all change as Gale secured her third win of the series, and with it the overall title, improving her first run by over five seconds.
Jensen could not quite match her seeding run, conceding seven seconds to Gale as she secured second spot just ahead of a consistent Monaghan in third.
Round Five Results
Elite men
1. Joe Breeden (Intense Racing UK) 2:00.0702
2. Reece Wilson (Trek Factory Racing DH) 2:00.2553
3. Roger Novack Vieira 2:02.480
Elite women
1. Becci Skelton 2:33.767
2. Mikayla Parton (Green Power) 2:36.181
3. Abbie Sloan 2:36.995
Junior men
1. Shaun Sangster 2:03.921
2. James Elliott 2:04.631
3. Dan Slack (Divinci Factory Race Team) 2:05.512
Junior women
1. Phoebe Gale 2:42.467
2. Tea Jensen 2:49.901
3. Rosy Monaghan (One Giant Leap) 2:50.159