Laurie Greenland's lifetime ambition finally became reality after winning a UCI MTB World Cup race for the first time with victory at Val di Sole.
The Brit put down a storming run to cross the line in 3:37.819, doing what others could not in Italy by taking on the tough track head on to storm to personal history.
He had to beat the best of the best to do so, ousting world champion Loic Bruni from top spot as French riders missed out on downhill victory for the first time this World Cup season.
From the first pedal there was no turning back for Greenland with aggression the order of the day, a winning margin of 2.854 seconds underpinning his authority after attacking from start to finish.
Greenland lost for words
"It means everything, it's what I've been working for my whole life," said the MS Mondraker Team rider, who came second in the World Championships at the same venue in 2017.
"I'm truly lost for words, Val di Sole has always been good for me and it's a place and a day I'll always remember.
"I'm so stoked. I love it when it's natural, I can just sit behind the bike and muscle my way through as a smaller guy.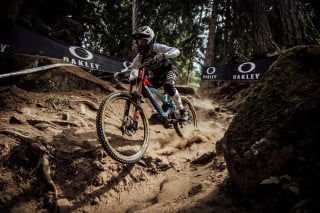 "It's such a smooth run, it flowed together and I had a really strong bottom section, I felt fresh down there and I'm ecstatic.
"The last time the team had a win was Brook MacDonald, so to do this for Mondraker is crazy, I'm so stoked.
"My girlfriend is here with me, and my dad and everyone at home is watching so this means a huge deal for them."
British duo ready for World Cup charge
Greenland had qualified tenth in Italy but with weather disrupting and delaying those putting times on the board, the main event drew little correlation to what had gone before.
But with a podium in Les Gets last month still on his mind there was confidence aplenty behind the 22-year-old, with his winter work paying dividends in a new and improved technique.
A strong outing 12 months ago also offered plenty to race for as he chased down Bruni's time, down after the first split but in the green thereon in a thoroughly impressive display.
Increasing his lead by a second between stages two and three proved the clincher and from there, there was no looking back, Greenland producing something special to earn his first World Cup win.
He was not the only Brit impressing, with Joe Breeden earning the honour of being last down the track having qualified in first position.
He finished 25th but Danny Hart had better luck on raceday, finishing in fifth place as Great Britain cyclists earned a 16th podium at Val di Sole, the most by any nation in World Cup races.
Hart and Greenland currently sit fifth and sixth respectively in the World Cup standings and with just two downhill races to go this season, the pair are well set for a strong finish to their 2019 campaigns.