British Cycling has confirmed the squad of 19 riders who will represent Great Britain in the downhill events of the UCI Mountain Bike World Championships which are taking place in Lenzerheide from the 5 – 9 September.
The reigning junior world champion Matt Walker is set to make his elite world championships debut in Lenzerheide, having taken the elite national title over the weekend. Two-time world champion Danny Hart has also made selection for the elite men's event.
In the elite women's race, five-time world champion Rachel Atherton will represent Great Britain having finished on the podium in all five world cup rounds so far this season. Former junior world champion Tahnee Seagrave, who has joined Atherton on the podium four times this season, has also been selected while current national champion Katy Curd completes the elite women's squad.
In the junior categories, Henry Kerr will be looking to improve on his ninth place finish from last year's world championships while twin brother George has also made selection. Junior national champions Kade Edwards and Rosy Monaghan will also take to the start gate in the junior men's and junior women's events respectively.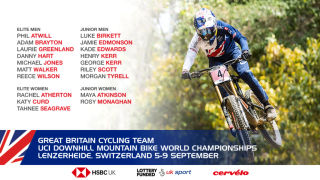 Michael Vickers, the downhill co-ordinator for the Great Britain Cycling Team said: "Historically, the downhill world championships are an event in which British riders enjoy success, and we've seen countless podium results over the years at both elite and junior level. I believe the team we have selected for Lenzerheide will continue this run of results for the Great Britain Cycling Team.
"In the elite men's race, Danny Hart will be in the hunt for his third world title and will take confidence from winning a world cup round on the Lenzerheide course when it was held there in 2016. Laurie Greenland is having a great season so far, with two podium world cup finishes, and is also familiar with the course. I'm also looking forward to seeing Matt Walker make his debut at these elite worlds, I think he will gain a lot of the experience and can put this towards his future development.
"In the elite women's race, our most successful female downhill rider Rachel Atherton is one to watch after a crash in the world championships last year ended her winning streak of world titles. She will face some strong competition from her fellow British team-mates as both Tahnee Seagrave and Katy Curd head to Lenzerheide in great form.
"Great Britain is also well-represented in the junior categories, with some exciting young talent having made selection, all of whom have delivered results this year at international level."
The squad for the cross country events taking place at the UCI Mountain Bike World Championships will be announced in due course.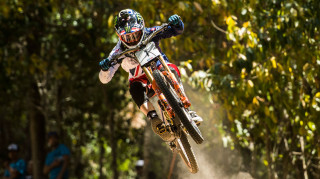 Great Britain Cycling Team for UCI Downhill Mountain Bike World Championships, Lenzerheide
Elite Men
Phil Atwill (23, Berkhamsted)
Adam Brayton (29, Keswick)
Laurie Greenland (21, Bristol)
Danny Hart (26, Redcar)
Michael Jones (23, South Wales)
Matt Walker (19, Shropshire)
Reece Wilson (22, Scotland)
Elite Women
Rachel Atherton (30, Powys)
Katy Curd (29, Gloucestershire)
Tahnee Seagrave (23, Powys)
Junior Men
Luke Birkett (18, Cumbria)
Jamie Edmondson (17, Scotland)
Kade Edwards (18, Huddersfield)
Henry Kerr (18, Scotland)
George Kerr (18, Scotland)
Riley Scott (17, Powys)
Morgan Tyrell (17, Wales)
Junior Women
Maya Atkinson (18, Devon)
Rosy Monaghan (16, Merseyside)