Great Britain mountain-biker Evie Richards took third place in the elite race at the Swiss Cup on Sunday, with Sophie Wright matching her result in the junior women's event, part of the UCI MTB Junior XCO series.
A ten-rider Great Britain Cycling Team squad travelled to Rivera for the event, the first of the UCI Junior MTB Series.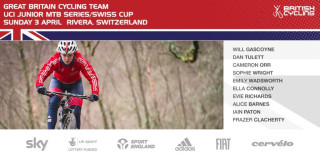 Junior world cross-country silver medallist Richards, who took second place a week earlier in her first elite cross-country event in Milan, once again showed that she could live with the pace of the world's best, sharing the podium with home rider and three-time under-23 world champion Jolanda Neff.
The result is the latest in Richards' impressive progression through the ranks, the 19-year-old winning the under-23 cyclo-cross world title in Zolder in January.
British junior cyclo-cross champion Sophie Wright matched Richards' effort in the junior women's event, third behind Martina Berta of Italy and Frenchwoman Helene Clauzel in a field of over 60 riders.
Wright's teammate Ella Connolly was 23rd, while Emily Wadsworth was forced to retire after one lap, a fate shared with Alice Barnes in the third lap of the elite women's event.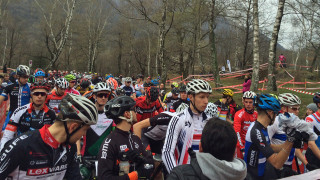 The under-23 men's event saw Iain Paton and Frazer Clacherty achieve 13th and 18th place respectively.
Will Gascoyne was the first of the junior men, finishing eighth despite an early crash, with Dan Tullett 26th and Cameron Orr 28th from a third-row gridding.
"The nine-day trip had some clear development objectives for each rider," said Great Britain Cycling Team development coach Simon Watts. "However these varied for each athlete as we had a wide range of ages and experiences across both Junior and Senior Academy.
"Overall we are looking to gain experience of international courses and their technicality, improve tactical knowledge from larger, higher quality fields and work as a team of athletes and riders, as we continue to refine our race day process."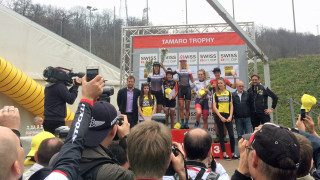 "It's easy to pick out the podium results from the likes of Evie and Sophie, and these deserve the attention they receive," Watts added. "However there have also been some very strong steps forward by a number of the others members of the group, with the likes of Iain Paton and Will Gascoyne starting to show in races, the speed that we have previously seen in training or testing.
"Overall it feels like a strong start to a season, by a very young group of athletes, that together can really move us in the right direction as an XCO nation."
The UCI Junior MTB series continues at Montichiari in Italy on 16 April.
Results
Rider Route
Gaining experience of international racing is a key component of the Rider Route for junior and senior academy road riders.
Rider Route is British Cycling's performance pathway, helping the most promising riders become the stars of world and Olympic cycling.