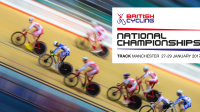 2017 British Cycling National Track Championships
The British Cycling National Track Championships returns to the National Cycling Centre in Manchester, home of the Great Britain Cycling Team, from 27-29 January 2017.
With the iconic red, white and blue national champions' jerseys at stake, the racing will be spectacular, as Britain's emerging generation of talented riders take on established members of the Great Britain Cycling Team for the honour of being crowned national champion.
Members had exclusive access and 25% off tickets from Thursday 6 October to Thursday 13 October. Tickets are now available to purchase on general sale via Ticketmaster.
To get benefits like this for future events, as well as all the other great member benefits on offer, join today from just £21 a year.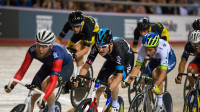 15% off tickets to 2016 Revolution Series
The UK's biggest track cycling league returns for the winter season with a brand new format. A Champions League competition has been created for 2016 which will see Road and track stars from around the world go head to head
Expect fast-paced, action-packed and spectator-friendly racing to enjoy at the weekend!
For more information on the new competition structure, see the revolution website here
UK Championship
Round 1: Manchester, National Cycling Centre – 17September
Round 2: Glasgow, Sir Chris Hoy Velodrome – 8 October
Round 3: Manchester, National Cycling Centre – 22 October
Champions League:
Round 1: TBC, Venue TBC – 18 November
Round 2: TBC, Venue TBC – 19 November
Round 3: Manchester, National Cycling Centre – 25 November
Round 4: Manchester, National Cycling Centre – 26 November
Round 5: London, Lee Valley VeloPark – 2 December
Round 6: London, Lee Valley VeloPark – 3 December