In the latest in our new series meeting some of the stars of the Great Britain Cycling Team Senior and Junior Academy, we find out more about the multi-talented Evie Richards.
Name:
Evie Richards
Hometown:
Malvern, Worcestershire
Your discipline:
Mountain bike and cyclo-cross
What are your earliest memories of cycling?
When my Nana was trying to teach my younger sister to ride at the Forest of Dean. Every time she did well we all got a lolly pop, so we were trying to get her to ride with us, because we loved sweets!
When did you know cycling could be a career for you?
It wasn't until I was looking around universities, where I had always wanted to go, that I realised I didn't really like all these amazing places I was looking round and that was because I couldn't see myself not racing my bike.
Describe your favourite bike ride:
When I am home my favourite ride is to go over the top of Ever Hill. It is so quiet and the views are incredible, there's no place quite like it!
Who is your cycling hero/idol?
I got into cycling with the support of Liam Killeen and Tracy Moseley and I couldn't pick between them as they are both my idols. They have both achieved such amazing things, yet they still have so much time for so many people.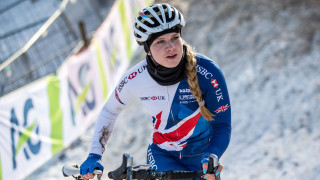 What are your goals and aspirations?
I have always dreamt of winning a medal in the Olympics. When I was younger, I struggled to watch the Olympics because I wanted to be there so badly! So my main goal is to compete and win a medal at the Olympics in front of my family.
But the Commonwealth Games is obviously another big goal to podium at. In between these events are world championships and obviously every year my goal is to become world champion, you have to aim high right?!
What's the best thing about being a cyclist?
The places I get to travel and the people I meet along the way. I feel so lucky to see such beautiful places as my job and it's a bonus to see all the lovely people I meet along the way.
…and the worst thing?
I miss my family a lot when I am away traveling. I hate missing birthdays and holidays as I have a really close family.
If you had 24 hours anywhere in the world, where would you go and what would you do?
Every year the whole family goes to Cornwall on holiday, it's the most amazing place but i miss it every year because I am in the lead up to the world championships. So I would go and lie on the beach with all my family in Cornwall.
If you had to choose another sport, what would it be and why?
Doubles volleyball. I love being on the beach and being part of a team, but I would be rubbish at it!
If you could invite 5 people (dead or alive) over for dinner, who would they be and what would you cook?
Michael McIntyre and Joey Essex make me laugh a lot so they would both get a seat. Then I would invite my Grandad so I could fill him in on everything that has happened. The Queen would get a seat and then Sir Tom Jones as I reckon everyone at the table would like him. I'd cook whatever I had time to make after training!