Meet William from Devon, who enjoys the social aspect of cycling as well as pushing his limits with the Cycle Sport South Hams.
Name:
William Hornby
Age:
39
From:
Kingsbridge, Devon
Club:
Cycle Sport South Hams
What kind of riding do you do?
Road riding mostly and as often as I can with a group
What do you enjoy most about cycling?
I enjoy a lot of things about cycling from competing in races, hard training rides with my club mates, riding through the roughest weather when I imagine others are stuck in indoors and of course long Sunday rides with a cafe stop to eat some cake!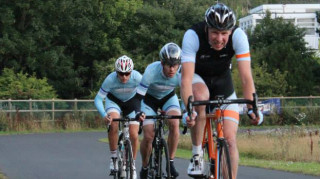 What's your favourite ride?
Devon is full of interesting roads but up to Moretonhampstead via the Haytor climb on which Simon Yates won a stage of the Tour of Britain in 2013 is an excellent ride from Kingsbridge.
What's your top cycling tip to share?
It's great fun to ride with a group and other cyclists can definitely encourage you to keep improving your fitness. A lot of riders are put off joining clubs or taking part in club rides, thinking they're not fast or fit enough, but there are clubs and rides suitable for everyone once they start riding with the club they wished they had done it sooner.
If you had a tandem, who would you like to ride it with?
Sean Kelly because of his excellent achievements as a racing cyclist winning some of the biggest races in the world like Paris-Roubaix and Paris-Nice. He is now one of my favourite commentators for cycle races on TV as he seems to know the sport very well from his years of racing at the top of the sport.
Send us your profile and win a Great Britain Cycling Team water bottle!
Don't forget to send us a selfie of you and your bike. Remember, without a photo we can't share your profile in a future edition of Member News!
Please send your completed profile to memberprofiles@britishcycling.org.uk and if you're featured you'll be sent a limited edition Great Britain Cycling Team water bottle.