We've revamped our digital training plans on TrainingPeaks but what's new about them, how do you get them and which plan should you choose for the autumn and winter?
What's new
Every workout within the plans is built and will therefore be compatible with both smart trainers and, if you're riding outside, head units such as Garmin and Wahoo. If you have a Zwift account synced to your TrainingPeaks account, the workouts are scripted for Zwift and are fully compatible.
The actual structure of the plans has been completely overhauled too with an emphasis placed on delivering realistic and time effective training that allows flexibility and fitting in with your life. There are plans for all levels and all disciplines so, whether you're preparing for a sportive, looking to complete a mountain bike marathon or beat your 10-mile time trial best, there's a plan for you.
How do I get one?
First of all, if you don't already have one, you'll need to set-up a TrainingPeaks account. You'll be able to access and follow our plans with the free Basic Athlete Edition and, if you want greater levels of analysis, you can upgrade to the Premium Athlete Edition. Gold British Cycling Gold members get a 40% discount off the monthly subscription for the Premium Athlete Edition and all other members a 20% discount.
You can then find and purchase the plans by either searching in the TrainingPeaks Training Plans Store or by going to British Cycling landing page on TrainingPeaks.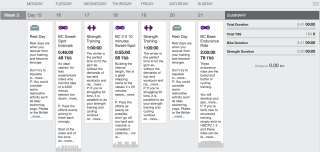 Why are you charging?
Making these plans completely digital involved considerable time, effort and investment both from ourselves and TrainingPeaks. The prices for the plans reflect their market value and are in line with other similar plans available in the Training Plans Store.
British Cycling members receive a 20% discount on all plans meaning that, for a 12-week plan, the cost is around £30 or £2.50 per week. Additionally, there is no limit to the number of times that, once you've purchased a non-event specific plan, you can use it or the workouts from it.
Which plans for autumn/winter?
There are two plans which are particularly suited to the autumn and winter.
The British Cycling 12-week "Real Life" Winter Training Plan is a departure away from the traditional, outdated and, for most riders, ineffective winter fare of trying to grind out slow miles under the misconception of "base training". This plan is time effective, takes potential poor weather into consideration, allows focus on strength work but will still lay the perfect foundations for a successful season.
The British Cycling 8-week Indoor Time Efficient Training Plan is a plan designed for riders who, due to work, family, the weather or other reasons, are time poor and are limited to indoor training. There is a real emphasis on workout quality and recovery.