Knowledge Level: Beginner
Below is some additional information for riders to be aware of in preparation for testing.
Top tips for riders
We recommend that riders follow their normal hydration routine as a urine sample will be tested for its 'specific gravity'. This is because the urine must be of a certain concentration for the laboratory to analyse the sample. If a rider's urine sample does not meet the required concentration (i.e. is too dilute) they will be required to produce another urine sample.
Riders will be offered a choice of sample collection equipment. In the UK that is of at least three of each item of urine sample collection equipment or a minimum of five items of blood sample collection equipment. Riders should ensure that the kit they choose has intact seals, has not been tampered with and does not contain any foreign objects.
Riders are directly observed when providing the sample and must provide a clear and unobstructed view for the Doping Control Officer (a rider will be exposed from their armpits to their knees in order that the Doping Control Officer can ensure there is no foul play taking place). Riders who are being tested for the first time for urine should try to relax and not to worry about this; the Doping Control Officer has done this plenty of times before and it is all just part of being a rider
Riders selected for a blood test should be aware that only a small amount of blood is taken: less than a teaspoonful, so they should not suffer any ill-effects from the sample collection. Riders will be asked to rest in a seated position for at least ten minutes prior to blood collection.
Riders will be given an opportunity on the Doping Control Form to record any medications and supplements that they have taken in the last seven days. We advise riders to include anything that may come under these categories, including prescribed and over-the-counter medicines such as cold and flu remedies, multi-vitamins, and herbal remedies.
Riders should feel free to ask the Doping Control Personnel any questions about the procedure.
Riders should record any comments or concerns on the Doping Control Form.
Modifications for riders with disabilities
Sample collection procedures may be modified if necessary due to a rider's disability. A representative may be required to accompany the rider during the sample collection session. This would occur particularly if the rider requires assistance with holding the sample collection vessel or dividing the sample into the A and B bottles or some other area of the Doping Control process
The Doping Control Officer or Blood Collection Officer has the authority to make modifications to sample collection procedures, where necessary, as long as those modifications don't compromise the identity, security or integrity of the sample.
Riders that use urine collection or drainage systems will be required to drain existing urine from such systems and replace the bag, where there is one available, before providing a urine sample for analysis.
Coaches can request leaflets that explain sample collection procedures for riders with disabilities from their NGB. More information can be found here.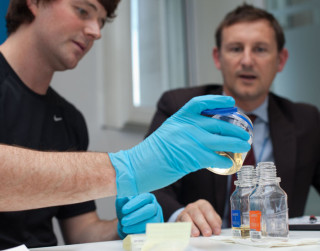 Modifications for riders who are minors
Minors are riders who are aged less than eighteen years, but this may differ depending on the organisation that has testing authority. Parental consent will be sought for testing minors prior to the test.
A minor must be notified in writing in the presence of another adult, not necessarily the rider's representative.
Minors are strongly advised to have an adult representative with them in the DCS. If the rider declines the presence of their own representative, a UK Anti-Doping Doping Control Officer will still have a second representative observing the Doping Control Officer's observation of the sample provision. At no time will a Doping Control Officer be left alone with a minor in the DCS.
More information on testing minors can be found here.
International differences
All urine and blood sample collection should follow the International Standard for Testing. However, riders may find that some NADOs or IFs have small modifications to what they are used to. Riders should be aware of their responsibility to provide a sample to a Doping Control Officer when notified by an official anti-doping agency. As a minimum they should feel comfortable that sample collection vessels and A and B bottles are clean and sealed, and that they have been assigned a Doping Control Officer of the same gender. Aside from that, the rider should comply with the testing procedure but record in detail all concerns on the Doping Control Form.
What happens to samples after collection?
After the sample have been collected at the Doping Control Station, they will be securely stored then transported to a WADA-accredited laboratory; all details of this process will be documented. All samples are anonymous to the laboratory. They are identified only by unique numb
ers on the A and B bottles and on the Doping Control Form, and will only be linked to a rider by the Results Management Authority (RMA), which is normally the NADO. The rider's B sample will be stored, and the A bottle will be opened and analysed to detect prohibited substances, their metabolites and markers, and prohibited methods. The samples can also be tested for other substances on WADA's monitoring programme and to profile relevant urine and blood parameters such as testosterone levels and haematocrit (the percentage of red blood cells in the sample).
A and B samples can then be stored for up to eight years and the NADO or WADA can re-analyse the samples at any time during that period. This may happen when new detection methods become available to test for prohibited substances. This was the case when the detection method for an endurance-enhancing drug called CERA was introduced in 2008. Anti-doping organisations were able to re-analyse stored samples and ban riders who tested positive for the drug, even though their first analysis had been negative.
After eight years, samples must either be destroyed or used anonymously for research purposes if the rider has given their consent.
If the laboratory detects the presence of a prohibited substance or method in a sample, the NADO will commence the case management process. Riders who are tested by UK Anti-doping and who are not on the ADAMS Whereabouts system will be informed in writing by British Cycling if their sample did not test positive for any prohibited substances or methods.
For further information visit www.ukad.org.uk