Knowledge Level: Beginner
The clue is in the name when it comes to gravity, with this mountain biking discipline all about getting downhill as quickly and smoothly as possible. For riders, it's a case of building up fitness, skill and experience to be able to descend faster and on more technical lines that will reward courage and creativity.
Gravity is actually made up of a number of separate sports including four cross, downhill and enduro. With lots of similarities you can ride and race across a combination, plus there is crossover into BMX with the focus on flow, getting airtime and riding the fastest lines.
Four cross (4X)
These races take place on descending technical dirt tracks, with four riders lining up at the start to race to the bottom. Typically there is a mechanical start gate at the top, which – just like BMX – releases riders at the same time. Races are then held in rounds or motos, with faster riders progressing through the competition until an overall winner is decided.
Four cross is a brilliant discipline to try if you enjoy the thrill of riding downhill and are after a bit of friendly competition. Events typically have racing for all ages, with fun, non-ranking categories if you just want to give it a go.
You don't need a top-end bike to get involved either: essential kit is usually a full face helmet and mountain bike with two working brakes so you can get a feel for four cross before investing in an upgrade.
Downhill (DH)

While downhill racing has a brilliant community, the events themselves are all about just you and your bike; riders are set off individually at intervals to race against the clock. The day starts with time for practice runs, giving each rider a chance to learn the course and make any necessary changes to their bike set-up. Following that there is a timed run, which decides the order you'll set off in the final.
Downhill courses are technically demanding and require brilliant bike handling, with weather conditions having a big impact on how each route runs. Each run is short – lasting just a few minutes – but with explosive sprints and plenty of adrenaline flowing, you'll be breathing heavily at the bottom.
Trail centres and bike parks are great places to practice – plus these purpose-built facilities will typically host events so keep an eye on their website, social media or info boards for news.
Enduro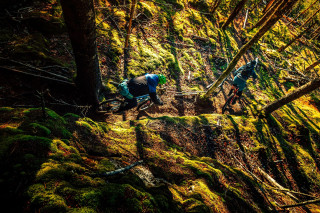 While gravity definitely has its part to play in enduro, here racers also ride the uphill sections to move between timed descents. This creates a long ride made up of numerous stages, with your times for the downhill segments being added together to decide the final result. There is some incentive to climb back uphill though, with time limits set on the overall race event.
Enduro racing requires technical skill but also endurance, with long days in the saddle and a need to react to the demands of the trail. It's a scene that is emerging in the UK, with lots of events taking place internationally, too.
These events aren't organised via British Cycling so won't appear on our event finder, but searching 'UK mountain bike enduro' will show you which events are coming up.