Are you ready for winter? There is lots of great content of the Insight Zone to keep you riding throughout the winter months.
Training Plans
Following a structured training plan is the best way to ensure you get the most out of your winter training and are riding at your best come the spring. We have redesigned our Training Plans for 2017/18, giving more flexibility to allow you to fit your riding in and there is a plan suitable for all levels of rider.
Complete beginners can build up to a 50 km ride by following our Sofa to 50 kilometre plan or, if you have already got some cycling experience, our Improver Plan will prepare you for a 100 kilometre ride.
Intermediate and Advanced riders should first follow our Off-Season Base Builder and then move onto our Pre-Season Plan.
Off the bike
The winter is the perfect time to focus on some off the bike training as your on the bike work will be less intense and, without events or races, a temporary drop in your cycling performance isn't an issue. Off the bike training can benefit your cycling performance in the long-term but, more importantly, will make you more robust and resilient to injury.
Find out how to perform the best basic, advanced and climbing specific strength exercises from the Great Britain Cycling Team strength and conditioning coaches and for more restorative and recovery focussed sessions, back and lower body and upper body mobility work from the Great Britain Cycling Team physiotherapists.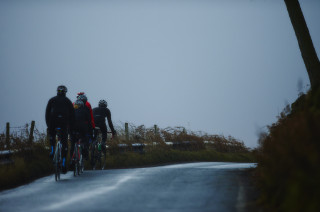 Indoor training
Using an indoor trainer isn't a wimp-out for avoiding bad weather but a time efficient and highly effective option for focused training sessions. You can always do exactly the efforts you want without the distraction and interruptions of traffic and junctions.
Decide which type of indoor trainer to buy, optimise your indoor training set-up, learn to ride rollers and then try one of our indoor training sessions.
Nutrition
A great winter of training is built on the foundations of solid nutrition. When you are out battling the elements on long rides, if your fuelling and hydration aren't optimal, you will suffer unnecessarily and potentially reduce your training gains. Whether you're looking for snacks for on the bike, breakfast, lunch or evening meal options, we have got recipe's from the Great Britain Cycling Team nutritionists.
Kit, clothing and maintenance
By choosing the right clothing and by following some simple guidelines, you can stay warm on the bike no matter what the British winter throws at you.
Although winter can be hard on your body, it's even harder on your bike. Get some top winter maintenance tips from the Great Britain Cycling Team head mechanic. Keeping on top of basic maintenance, such as cleaning your bike, degreasing and lubing your chain and indexing gears, will keep it running smoothly.
Whether commuting or training, even during the day, making yourself visible on your bike is important in winter conditions. You also don't want to find yourself stranded on a cold, wet and dark roadside, so make sure you carry the necessary kit.
Muddy fun
If it's icy or snowy, getting off the roads and hitting the trails can be the safer and more fun option for getting your winter miles in.
Check out our Trail Smart videos to get a few technique pointers and to inspire your off-road adventures.
Racing
The winter doesn't have to mean an end to competition. Both cyclo-cross and indoor track racing offer plenty of opportunities to pin a number on
Join a club
Getting out for winter rides is far easier if you know you will be meeting up with a bunch of like-minded individuals. You are also safer and more visible in a group and will learn valuable group riding skills. Most clubs offer rides for a range of abilities so don't worry about your fitness level.
Head for the sun
Booking some warm weather training is a great way to give yourself a motivating mid-winter boost.