If you are following the British Cycling Training Plans, you will be cycling through the worst of the winter. Along with making sure that your bike is ready to deal with winter roads, that you're safe on the roads and well lit, getting your clothing right is essential for a successful winter's cycling campaign.
Head
For under your helmet, you can't beat a traditional Belgian style winter cap. You can wear the peak down if it is raining or flip it up in the dry to improve visibility. If the temperature starts to rise, you can lift up the ear-flaps or put it in your jersey pocket. Look for a windproof front, fleece lining, breathable/wicking rear and water resistant treatment. Alternatives include a windproof skull-cup, thin Merino wool beanie or, if you have thick hair, a headband to cover your ears and forehead.
Neck and chin
A high snug jacket or jersey collar will provide some protection but, to really stop the cold and wet working its way in, a simple snood or tube style neck scarf is an effective and versatile piece of kit. You can pull it up over your chin if it's really cold or even fashion it to form a balaclava to protect your face and nose.
Torso
Layering is the key to comfort. Start with a wicking baselayer next to your skin. A zip neck is useful to help regulate temperature and make sure there's enough length to cover your lower back when bent forwards. Some cycling specific base layers have a windproof front which is useful and can allow you to often ride with just two layers on.
Next, is an insulating mid-layer which will usually be a winter weight cycling jersey. There are a number of options including Roubaix lined brushed fleece, Merino wool and a range of other synthetic and natural fabrics. Some will also have windproof panels on the front and a full length zip is handy for regulating temperature. Fit is crucial, look for a dropped hem at the rear, enough length in the arms, a drawstring and/or silicon grippers on the hem to prevent riding up and a high collar. Pockets are essential and should include a zipped one for valuables.
Finally is your wind, waterproof or softshell jacket to protect you from the elements and to seal in the warmth of the layers underneath.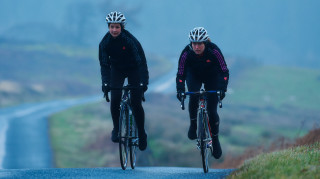 Hands
Cold hands can easily ruin a ride and, if they interfere with your ability to brake or shift gears, affect safety and performance. There is a massive range of gloves to choose from but look for wind or waterproof designs that offer decent insulation without being too bulky. A key tip that many riders forget is to make sure that the cuffs of your jersey or jacket go over the cuffs of your gloves. This will stop warm air getting out and cold air and water getting in. Check out more tips for keeping your hands warm on the bike.
Legs
The only option for riding through the winter are a quality pair of winter bib-tights. The bib provides extra insulation for your lower back and prevents them slipping down. Look for a high quality pad to help prevent saddle soreness, insulating fleece lined fabric and water resistant/repellent coating on the outside. Reflective decals and piping improve visibility and stirrups or zipped ankles provide a snug seal.
Feet
Keeping your feet warm on the bike can be a battle but, with careful selection of socks, overshoes and fitting mudguards to keep your feet dry, it is possible. Beat ice block feet this winter with our full guide to keeping your feet warm on the bike.