If you own a power meter, such as a Verve InfoCrank, you should be paring it to Zwift to improve training accuracy, post ride and race analysis and even to maybe give your avatar a small performance boost.
With a dumb trainer
If you've got a simple Zwift set-up using a "dumb trainer", speed sensor and rely on zpower then a power meter will greatly enhance your experience of the online platform by ensuring that the effort you put into your pedals translates accurately to your avatar's speed.
Simply wake up your power meter and, on the Pairing Screen, select it as your power source. If using ANT+ and a USB dongle, invest in an extension cable to get the dongle as close to your power meter as possible.
Using a power meter and dumb trainer is a big improvement on a basic speed sensor set-up but you still won't get the full Zwift immersive experience as the game won't be controlling your resistance. However your riding data will be far more accurate and, for many races on Zwift, zpower users are filtered from the results.
With a smart trainer
You might think that if you have a smart trainer, which in itself is a power meter, that using your on bike power meter is unnecessary or even overkill. However there are a number of reasons why you should.
To do this, from the Pairing Screen, again search for and select your power meter as the Power Source. You should then search for and select your Smart Trainer as Controllable.
Improved accuracy
The first reason for using your on bike power meter is accuracy and repeatability of your riding data. This means, if you see an improvement in your data, you can be more confident that it's genuine and not due to poor data.
Many smart trainers, even direct drive, are temperature sensitive and, to give accurate data, need 10-15 minutes of riding to "warm them up" and then for a spin-down calibration protocol to be carried out. Wheel-on trainers are even more prone to variability with tyre pressure and roller pressure on the tyre both impacting.
Power meters, although sometimes requiring calibration, tend to be more good to go from cold. The InfoCrank has no drift, it is not temperature sensitive and there is no need for constant calibration.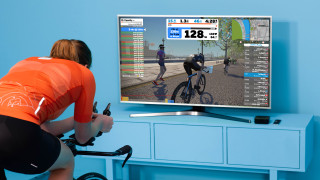 A little more power
Because a smart trainer is measuring power at the hub - for a direct drive trainer or from the trainer's roller - for a wheel-on trainer, there will always be a loss of some watts through the drivetrain. Even the most efficient drivetrain, with the straightest chain-line, optimal lube and oversized jockey wheels, will still be losing a small but measurable number of watts compared to what you're putting into your pedals. Therefore if you use a crank based power meter such as the InfoCrank as your Power Source, you might well find your avatar gets credited with a few watts more.

Post-ride analysis
That greater accuracy and less need for calibration means that you can be more confident in comparing your data from ride to ride and tracking your progress.
The InfoCrank is a dual sided power which means it records true left and right power balance, pedal smoothness and torque effectiveness. This data can be invaluable and will be absent if you rely on your smart trainer alone. If you're logging a lot of hours on the indoor trainer, with a more fixed and static position than riding on the road, any imbalances or imperfections in your set-up and pedal stroke will tend to be compounded. With power balance data you can track this and, if necessary, action on it.
Indoor to outdoor
By using your on-bike power meter on Zwift, when you take your bike off your indoor trainer and head out onto the road, you can be confident that your indoor and outdoor power data and zones are comparable.
Dual power recording
If you're serious about your eRacing then many high end races require dual power files from racers to verify results.
"…..… riders are strongly encouraged to record a second source of power data. Providing a second source of recorded power data will, in many cases, streamline the performance verification process. The reviewers will analyze both sources of data to confirm that the power readings are accurate."
This means you'll need to record both your power source on Zwift, whether it's your on-bike or smart trainer, and a secondary source on a head unit.
British Cycling Members can save 15% on an InfoCrank package with Verve Cycling.
British Cycling members can train and race on Zwift with fellow members, join group rides led by pros, coaches, as well as special guests, and participate in workouts that are designed exclusively for British Cycling members. Sign up today to get access and unlock your exclusive British Cycling member kit in game.
Click here for more information