Knowledge Level: Beginner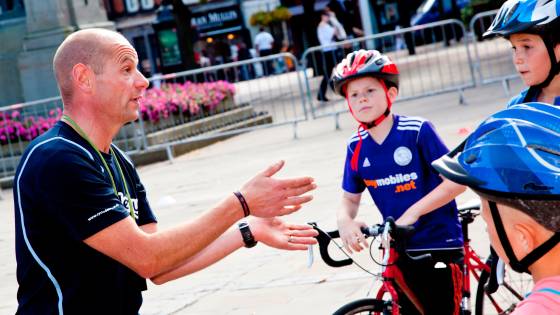 British Cycling Member John e-mailed in with the following question: My seven year old daughter really enjoys riding her bike and, although I'm obviously biased, she seems to have some talent. How should I go about getting her involved in some structured training and maybe racing?

Every child has the potential to thrive in a sporting environment and enjoy riding their bike. However, striking the balance between encouragement and pushiness is difficult and, if you get it wrong, it's very easy to put a child off cycling and any sport for life. Too much competitive pressure or structured training early on can be detrimental to children both physically and mentally.
This is why British Cycling's Go-Ride programme and the GB Cycling Team Performance Pathway put the emphasis on enjoyment, skills, appropriate competition and variety, until riders reach at least Youth Category A level (aged under 16). Go-Ride Coach, Joe Malik, outlines the pathway and gives some top tips for parents of young riders.
Joining a club
If your child is showing an interest in cycling, the first thing to do is to find a local Go-Ride Club. To find your local club, you can use the British Cycling club finder tool or phone your Regional Development Manager. Go-Ride Clubs run coaching sessions for young people in traffic-free facilities, hosted by British Cycling qualified coaches. The Go-Ride programme is the first step on a rider journey from beginner cyclists to lifelong participation or even the performance pathway. Over 60% of riders on the Great Britain Cycling team started out at Go-Ride Clubs.
Look for a club that has a wide range of cycling disciplines on offer and an established youth programme. Your regional Go-Ride team will be able to advise you on the clubs in your area, so don't hesitate to contact them or speak to the clubs directly. You should then arrange to take your child along for a few coaching sessions, before making the commitment of joining as a club member.
Youth category D and E
Youth Category D and E refer to riders aged under 8 and under 10. At this age, it's about having fun and enjoying bike riding. Parents of children this age sometimes ask me for training programmes, however they're simply not physically or mentally developed enough to cope with any form of structured training. Club sessions will focus on games that develop bike handling skills and, although there is scope for racing if the children want to, there are no expectations. Try not to limit children to any one cycling discipline or even just to cycling, encourage them to play and enjoy a wide variety of sports.
Youth category C
With Under 12 riders, the focus is still very much on enjoyment, skills and riding their bikes as and when they want to. At this age, they can be given more opportunities to ride and we would normally recommend two to three sessions per week. This could be a ride with their family, a skills session with the club or riding at home based on the games they've learned. And if they're interested, they could take part in a race. Most Go-Ride clubs will organise races as part of the Go-Ride Racing programme, which offers local competition for novice cyclists under the age of 16, helping young people to make a gradual transition into competitive cycling. A British Cycling racing licence is not required and the events are strictly aimed at novice racing cyclists.
If your club isn't hosting any appropriate Go-Ride Racing events, there may be opportunities at other Go-Ride Clubs nearby. For a full list of events, both regionally and nationally, check out British Cycling's events page.
Youth category B
This category is split into two years, with the first referring to riders aged up to 13 and the second up to 14. For riders in the first category, it is a progression from Category C, with the addition of a possibly joining a Club Run and starting to ride on rollers. These riders can ride their bikes as much as they want without being asked or told to. They should still have at least two full days off the bike in their week, where they can do other sports or activities with friends.
The second category is a transition from the skills and enjoyment focused approach of the younger age categories to Category A, where structured and prescriptive training is introduced. At this stage, they can also document what they have done on the bike each week and have it reviewed by their coach.
Riders should be forming a four to five unit riding week, which includes a turbo session, rollers session, technical/tactical session with a club, a longer training ride or Club Run and a race if possible. A local club coach at a Go-Ride Club should be able to advise their riders on structuring their week, with the help of Regional Performance Pathway Coaches. Structuring a week for a rider at this age should be a collaboration between parents, coaches and the child.
Around the ages of 13 to 14, as adolescents approach their peak height velocity, there are massively varying rates of physical development. Therefore, this can be a really difficult category to manage and it's important that children who are later developers do not become disheartened. It's also possible that there will be riders coming into the sport at this age without the background, skills and experience of the other categories. Care should be taken to emphasise their skills development and facilitate this, rather than focussing on training to compete.
Youth category A
If riders have worked all the way through from Category E, they will have eight years of technical skills development behind them. Riders should have the vision to see where their training and racing experience is counting throughout the season. Conversations between riders, coaches and parents will be around how each session is linked to the demands of their events and where it sits in their overall training plan. Riders will train in a more specific session structure to make sure they are building on their physical development, however avoiding overtraining. They should be completing five to six training units per week and, whilst they may be starting to lean towards a certain discipline, too much specialisation should be avoided.
Link to the Great Britain Cycling Team Performance Pathway
The goal of the Great Britain Cycling Team is to win medals across all disciplines. They aim to identify talent wherever possible and support riders through the development pathway towards elite performance. There are opportunities for riders from category C onwards at Go-Ride clubs to interact with the performance pathway and enhance their techniques and enjoyment. Over 60% of riders on the Great Britain Cycling Team have progressed from Go-Ride Clubs. Follow the link for more information on the Performance Pathway.
Advice for parents and young riders
Things don't happen overnight
It can take young riders time to learn new skills and develop, so it's vital that both the riders and their parents are patient and listen to the coaches. For example, the process of track accreditation for riders aged 12 takes 18 months, which can seem a long time, however this is the timescale that we've found is necessary for the riders to develop the required skills.
A bit of everything all the time
Ride as many different types of cycle sport as possible and avoid specialising too early. Keep playing other sports and try to develop as an all-round athlete, rather than just a cyclist.
Your club is key
Finding the right Go-Ride Club is probably the most important part of the process. Once you've found the right club, stay loyal to it and support it.
Don't forget rest and recovery
Second year Category B and Category A riders are especially at risk of overtraining and developing a 'more is more' mindset. Keep a close eye on their training, communicate with their coaches and educate them about the importance of rest and recovery. Interestingly, you actually damage your body when training, however through rest you come back stronger. Without rest, all you are doing is causing damage, building fatigue and risking burn-out.
You don't need top of the range kit
Parents always want the best for their children, however this can make it an expensive sport and there's no need for children to be turning to Category C races with deep section carbon wheels. Top of the range kit can make a difference at the highest level, however young riders can still do well and be competitive on well-maintained mid-range kit.
Encourage self-reliance
It is important for riders to become well rounded and self-reliant athletes. From an early age, riders should be encouraged to learn and be responsible for their own bike maintenance and set-up. As they get older, they should be packing their own kit-bag and, when appropriate, developing awareness and becoming involved in their nutrition and training planning. By the time they reach Category A, they should also be involved in planning their own race schedule and entering events.
Winning isn't everything
With only the first three riders in a category gaining points, not winning is something that young riders and their parents have to get used to. There are so many variables in bike racing that it's often races where you don't win, but have tried something different, that you learn more from. Especially in the younger age categories and in Category B, with its different levels of physical development, showing good skills and demonstrating tactical awareness should be praised as much as winning.
Enjoy it
Children will only stick at something if they enjoy it, so that always has to be the priority. They've got plenty of time when they're older to suffer grueling rides, turbo sessions and to face up to some of the harsh realities of serious bike racing but, until then, it's just about having fun and riding their bikes.
Alternative options
There are lots of alternative options for young riders who enjoy taking part in cycle sport at their local Go-Ride Club, if they don't want to pursue racing in a serious way. For example, British Cycling's Cycling Award for Young Volunteers recognises the efforts of young volunteers at clubs, giving them training on the various volunteering roles and helping young people to achieve bronze, silver and gold volunteering awards.