The best cycling helmet is the one that you don't notice you're wearing, but do you know what each component is made to do – and are you wearing yours in the most protective way?
Get the best fit
The next time you go to put your helmet on, follow these steps to make sure it's working as hard as possible to protect your head.
Check the date: Inside your helmet you should find a small sticker that shows the manufacture date. This might not be the date you start wearing it, but could be a useful reminder. The general consensus is that you should replace your helmet every three to five years.
Check the quality: Make sure your helmet has passed either the US Snell B90/B95 standard or European standard CE mark test. Again, look for the relevant logo on the sticker or embossed onto the body of the helmet – and be sure to check kids' helmets, too.
Ensure a snug and level fit: Hold your helmet in your hands and loosen off the dial or ratchet system. Now put it onto your head so that the front of the helmet is about two finger widths over your eyebrows. Tighten the cradle so that the helmet snugly fits your head. The test is to bend down towards your toes with the helmet staying on your head (but make sure you're ready to catch in case it's too loose!).
Remember that you will need to adjust tightness depending on the weather. For example, if you are wearing a casquette or skull cap under your helmet.
Adjust those straps: The straps that fall around your ears in a V shape each have an adjustable slider called a cam lock. This needs to sit just beneath your ear lobe with the straps in front and behind your ears sitting directly against your skin. The reason? If you were to fall from your bike, your ears act as an anchor so that the helmet sits squarely and protects your whole head.
Next adjust the strap beneath your chin so that it fits with enough space to slide two fingers between your chin and the strap when fastened. Again this fit may differ if you're wearing something under your helmet. Excess strap can be folded away or snipped off (allowing enough room for flexible fitting).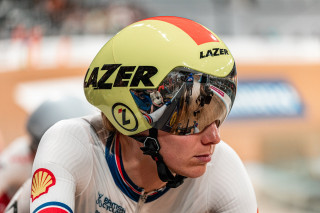 A few extra points on helmet care
Crash replacement: The EPS (expanded polystyrene) layer forms the bulk of the helmet and is the part that crumples and deforms to absorb the shock of impact. Or perhaps your helmet has a skeleton inside, usually made of carbon fibre. Because of the sacrificial nature of this part of a helmet, you should always discard a helmet after a significant crash and closely inspect it after any impact.
Our official helmet supplier, Lazer, will offer customers 50% off a new helmet if yours is damaged in a crash.
Keep it clean: Literally dealing with mud, sweat and tears, helmets should be washed pretty regularly. When buying, look out for one with removable pads that you can wash plus anti-bacterial treatments.
If you struggle with sweat running down your face in the summer, you could try a gel insert at the front of your helmet to form a barrier.
Buy for how you ride: An aerodynamic helmet can potentially give you some of the best gains relative to pounds spent, but with fewer or no vents they can be very warm. Aero gains can easily be off-set by overheating, so you might be better off in a regular vented road helmet.
All of the above advice for fitting applies but it's essential to take your riding position into account, too.
Sticking to the shell? The shiny outer shell (called a carapace) is not just there to look pretty. It protects the EPS liner and ensures in the event of an accident, it slides along the roads rather than suddenly jarring to a halt.
You may be looking to attach a mount to your helmet, particularly for mountain biking in the dark, so bear this in mind when buying.
If you're a British Cycling member, remember that you can save on helmets - and much more - on your Member Rewards Hub. Access it via your dashboard.